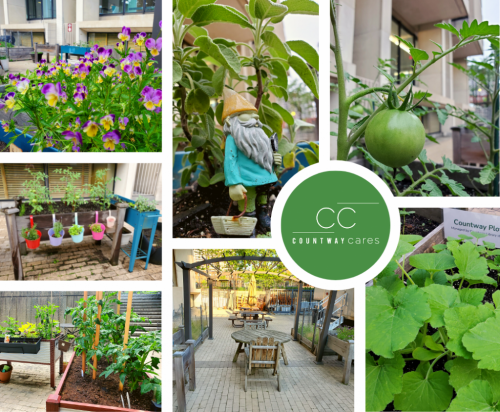 If you are interested in holding an event in the garden with more than 20 people, please read our Garden Ground Rules thoroughly and then submit an Event Request at least two weeks prior to the event.
The garden is currently open and publicly accessible daily from sunrise until sunset!
Want to help us grow throughout the year? Explore ways to get involved!
Once an unused plain brick space, the Countway Community Garden is home to the quiet yet busy movement of amateur gardeners. For the past ten years, our volunteer gardeners have donated their time and energy to nurture this haven. They get their hands dirty, relax, and learn from each other about how to grow greenery in the city. 
Our garden, like nature, is in a continuous state of evolution. We'd like to share this space with our community members as it continues to flourish as a little oasis right here on campus. There are lots of ways to get involved with the Countway Community Garden. We've typically held two major events each growing season and we're always looking for helping hands to tend and cultivate beds, plant seeds and assist with gardening chores. Even if you're not inclined to get your hands in the dirt, we also need help with logistics and planning. We welcome new and experienced gardeners. And even if you don't have the time to join us, we invite you to celebrate the renewal of growth around you wherever you may find it.
Contact us anytime.