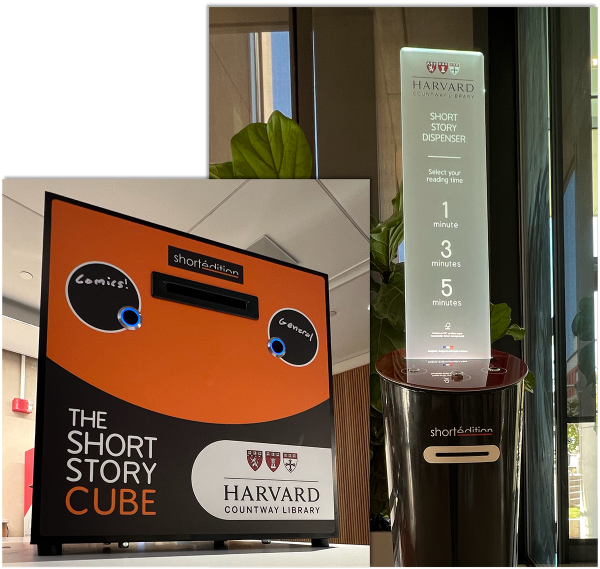 "The art of storytelling goes back more than 17,000 years to the earliest known place, the Lascaux Caves in southwestern France, where ancient stories are told through painted symbols on the walls of the caves." - Short Édition's website
Countway has partnered with Short Édition to bring the art of storytelling to the Longwood community via our interactive Short Story Dispenser and Short Story Cube! These devices provide short works of literature at the push of a button (or wave of a hand, as it were since they are now contactless), offering visitors to the library a chance to take a short break from their day. The works themselves come from a mix of public domain short fiction and poetry, as well as specially curated modern authors contracted with the publisher.
To visit our Short Story Dispenser, stop by the Countway Cafe, located right inside our Huntington Avenue entrance. There you will be able to choose a story based on your preferred length of reading time - 1 minute, 3 minutes, or 5 minutes. Keep an eye out for special thematic collections throughout the year!
To visit our Short Story Cube, head down to the Information Desk, located on Lower Level 1. There you will be able to choose between a traditional text-based story and, in a fun twist, a comic strip! Please note that during special events, the Short Story Cube may be unavailable as we do take it with us around campus.
Stories from both devices print on an eco-friendly paper, certified FSC and BPA-free, and print without inks.
For questions or comments about Countway's Short Story initiative, please contact Matthew Noe.