Hours
Sunday: Closed
Monday: 10:00am-4:00pm
Tuesday: 10:00am-8:00pm
Wednesday: 10:00am-4:00pm
Thursday: 10:00am-4:00pm
Friday: 10:00am-4:00pm
Saturday: 10:00am-4:00pm
---
Countway Library is proud to announce a new service for our patrons: the Info Desk on floor L1 is now managed by a rotating roster of library staff members six days per week!
Members of the Access Services, Collections, Outreach, and Research and Instruction teams will staff the desk. These library experts will be available to help our users with questions about placing items on hold, locating books or articles, and other information needs.
For questions about the Info Desk, please contact the Info Desk Coordinator, Corey Purcell.
Available at the Info Desk
Laptop Charging Lockers
Forget your charger or looking for a way to temporarily store and charge your devices securely?
Countway has a new Multi-Device Charging Locker, available on L1 next to the Info Desk. It has 8 locker bays, each equipped with a USB-C, Lightning, and Micro-USB cable.
Swing by the Info Desk with any questions!
Short Story Cube
Looking for a short read or a comic? Come check out the Countway Short Story Cube!
Comics on the left, general works on the right - it's got something for everyone.
Birdwatching Equipment
Countway is proud to partner with the HMS/HSDM Birdwatchers Club to offer birdwatching equipment at the Info Desk on L1!
Visit the Info Desk during their open hours to check out binoculars and birdwatching field guides. Items are available for 7-day loan periods.
Laptop Stands
Adjustable laptop stands are now available for borrowing from the Info Desk!
Be kind to your spine by picking up a laptop stand to use in the library. Stands are available for 3 hours at a time, with the option of extending. Swing by the Info Desk with any questions!
Info Desk Showcases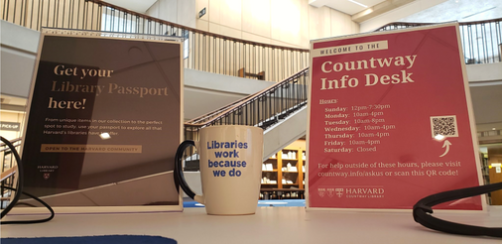 Countway offers an abundant array of services and expertise, and we plan to showcase them at the Info Desk on a regular basis for easy access! Join us for demonstrations, pop-ups and presentations from each of our departments, and learn how our vast collections and knowledge can supplement your courses, curriculum and education. Stay tuned for our fall 2023 showcase schedule!