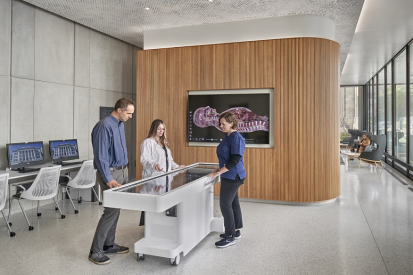 The renovation of Countway Library allowed for the creation of a Makerspace on our first floor. This innovative and collaborative space houses an Anatomage Table as well as a 3D printer and workspace for a range of academic and personal projects. These machines are available for use by appointment; please fill out the consultation form below and a member of the Makerspace team will contact you to discuss your project and help orient you to the machines.
Anatomage Table
The Anatomage Table allows for life-size rendering of human anatomy structures that can be rotated, manipulated, categorized, and "dissected" digitally. It includes full digital representations of several human cadavers (see provenance information below) as well as case studies of many anatomical abnormalities to allow students to see, for example, MRI images of a healthy and a diseased or deformed organ or structure. Instructors can also create modules and quizzes which students can perform using these digital cadavers, allowing the quiz to be identical for each user and allowing the instructor to highlight exactly the structure being studied.
3D Printer
Countway now has a Dremel 3d45 3D printer available for academic projects upon request. We are also happy to work with you to integrate the 3D printers and other equipment into your curriculum. To schedule a time to use the 3D printer or to discuss your particular project, please fill out the form above and a member of our team will work with you to help coordinate and realize your 3D print project.