Week 142: Upcoming Events and Meetings
Security Cameras
This week we met with Siemens to discuss the placement of the new security cameras that will be installed on the 2nd and 5th floors. The 2nd floor cameras (2) will face the Reading Room and the admin suite entrance. The 5th floor cameras (2) will be perfectly positioned to overlook the entire CHoM Museum, especially the display cases. Installation should be complete within the next week or so.
Construction Update
This week (3/13/23–3/18/23):
Interior partition framing for rooms is substantially complete
Electrical power and lighting are ongoing for the next week or 2 and preparing for inspections
Plumbing on L1 is ongoing this week and making great progress for inspections in about 2 weeks
Plumbing on L2 near the men's bathroom is substantially complete with misc activities ongoing.
Plumbing on L2 in the rare books area is ongoing for another week and making fast progress to meeting the requirements for the project.
HVAC is well on it way to being installed with about 1 week left of install for inspections
New sprinklers are being installed over the next couple weeks
Next week:
Working on buttoning everything up to achieve inspections by the city
Preparing to receive sheetrock on walls
Sprinkler ongoing
Please visit Countway's Renovation Page for more info, pictures, and FAQs regarding the L1 project. If you have any questions or concerns, please contact Luciana.
Upcoming Events
Harvard Staff Art Show: Countway Opening Reception on March 28
While the virtual Harvard Staff Art Show is underway, Countway will be hosting a number of artists' works in our building from March 27 to May 31, 2023. Come join us for the Opening Reception on March 28th from 5:30 to 7pm to take a first look at the art and hear from some of the artists about their pieces. Light refreshments and live musical performances will take place.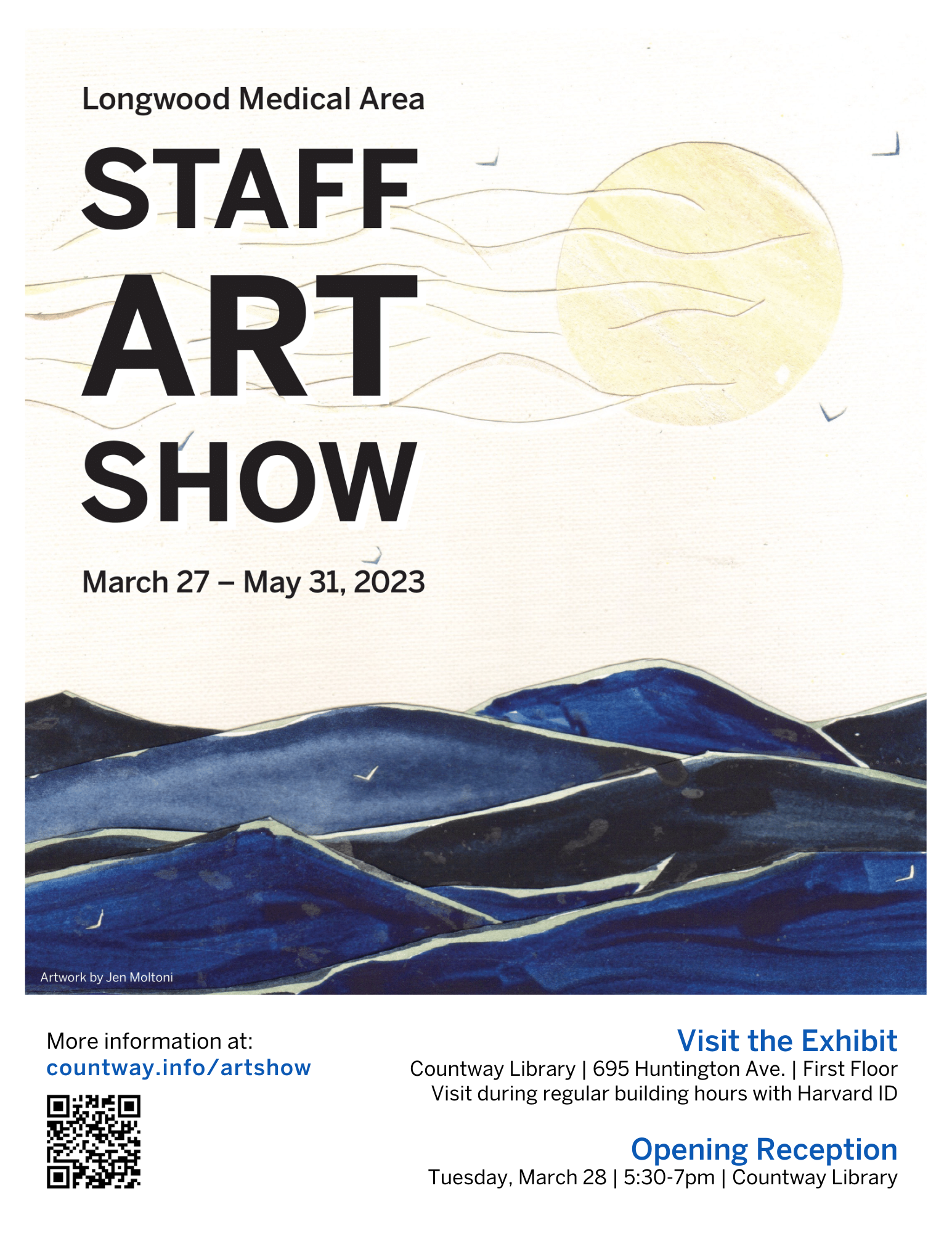 Graduation Planning
Graduation week starts May 21st. If you are interested in conducting Countway Library tours during graduation week, stay tuned for details to come shortly. Please note classrooms 102/103 will be offline from May 11th through May 31st for regalia pick up/drop off and other graduation events. Like we saw last year, we anticipate the library to be the hub for graduates, families, and guests during this time.
Grand Opening
Countway will be having our long overdue grand opening on Wednesday, September 27th. This is an all-day event to celebrate the library's renovations over the past years. We will have tours, activities, Countway Cuddles, food/drink, photos, a ribbon cutting, and speeches by key stakeholders. Dean Daley will say a few words, too! If you are interested in joining the planning committee, please email Meredith or Luciana. I look forward to welcoming the LMA and HMS community into the building to celebrate years of renovations.
Manager of Research & Instruction
Paul Bain will be formally interviewing for the role of Manager of Research & Instruction during the week of March 20th. Paul has been in this role on an interim basis since the departure of Michelle Bass last summer and has expressed interest in now moving into the role permanently. Please join us on Wednesday, March 22ndat 12:00 noon in the 1st floor classroom where lunch will be served and where Paul will give his presentation to the staff on the topic of the role of research and instruction librarians in the modern medical library that serves a large research, education, and clinical enterprise. There will be time for Q&A following his presentation.
Upcoming Meetings
The next all-staff meeting with Maureen Sullivan to discuss strategic planning will be on Wednesday, March 29th. In addition, we will be having a welcoming breakfast for Countway's new processing archivist, Rebecca Thayer, on Wednesday, March 22nd from 9 to 10am. All meetings will take place in the 1st floor classrooms and food will be provided.
Elaine