Week 122: And the Beat Goes On…
BML Transition
As you know, in anticipation of the L1 renovation, we are in the midst of shifting all monographs from L1 down to L2. We are making good progress! Thanks to the efforts of Access Services, the BiblioTemps team, and the LHTs, we have completed the first phase of the shift which has created room to move monographs in call numbers A through U down to L2. While part of the team begins this shifting, others have begun condensing the latter half of the serials alphabet to create space for monographs W through Z. While this project is spurred by the BML leaving and the pending renovation, it also presents an opportunity to take further stock of the collection and how we are making use of shelf space. While we anticipate the L1 shift to be finished by Thanksgiving, there will be further refinement of the stacks to come later in the academic year - more on that as we get closer!
BML Collections and HOLLIS
Now that the BML has been moved out of the Countway (with HD still ongoing), our current focus in collections management is the records for the BML items in HOLLIS. Since most of the BML collection went to the Internet Archive for digitization, we are expecting to be able to offer these titles again but in an online format once the scanning in complete. For this reason, the BML records have not been deleted but have moved to a new "location" that displays as "Withdrawal for scanning project (BML) and NOT AVAILABLE." If patrons have difficulty finding physical items on L2 once the shelf shift is complete and the stacks have reopened, check the record in HOLLIS to make certain it displays as GEN and not this BML code.
COVID Testing
The entire PCR testing program will end on 9/16 – this includes the Nexus testing which is basically just an offshoot HUHS arranged that will process the old HUCL (plastic swab kits). This is confusing since the university made us collect all of those and has only been allowing us to hand out Broad kits (cotton swabs). So essentially what will happen is that all university supplied PCR testing will conclude as of 9/16 – until that time you can submit either Broad or HUCL kits – most people only have Broad left since we made everyone trade them in. If we run through our Broad supply on hand, we will restock locations with the old HUCL kits which will be processed by NEXUS and can be dropped in the same bins through 9/16 – after 9/16 there will be no PCR testing supplied.
Resource Fair
The Resource Fair is on September 15th at 11am-6pm on the first floor of Countway. Please reach out to Yasmina with any questions.
Welcome Back to Anne Fladger
Anne Fladger will be rejoining the Countway team on a temporary basis beginning Monday, August 29th, in the role of a Research & Instruction librarian temporary part time. Many will remember Anne from when she worked temporarily at the old Circulation Desk just before the COVID lockdown began in 2020. She will be working part-time in R&I supporting mediated searching now that Paul has stepped into the Interim Manager role for the department. Anne has a long career in the local health sciences library world. For many years, she was the director of library services at the Brigham. Prior to that, she was the director of the library at North Shore Medical Center and before that, the ground-breaking consumer health library "Learning Center" at Beth Israel Hospital. She has also served as chair/president of both MAHSLIN and NAHSL. Anne will be onsite mostly on Wednesdays. Please stop by R&I to welcome Anne.
Information Desk
The new Information Desk on L1 officially launched on Monday, August 15th. It has been slow and steady. We have received questions about locker pickup, accessing books and even one about parking validation. We look forward to hiring a coordinator and do a formal launch of our new service with balloons and refreshments. For more information, visit the Information Desk webpage.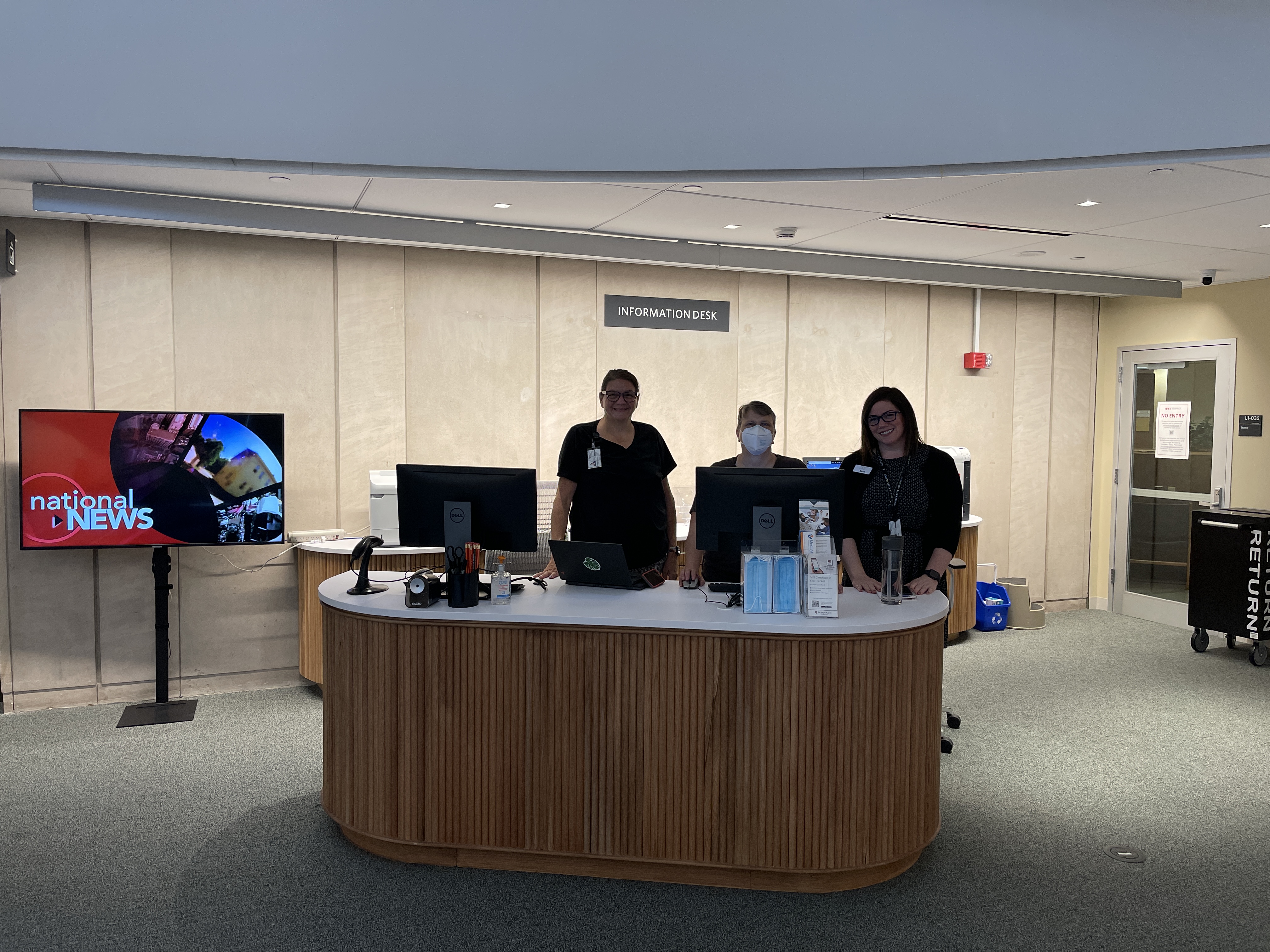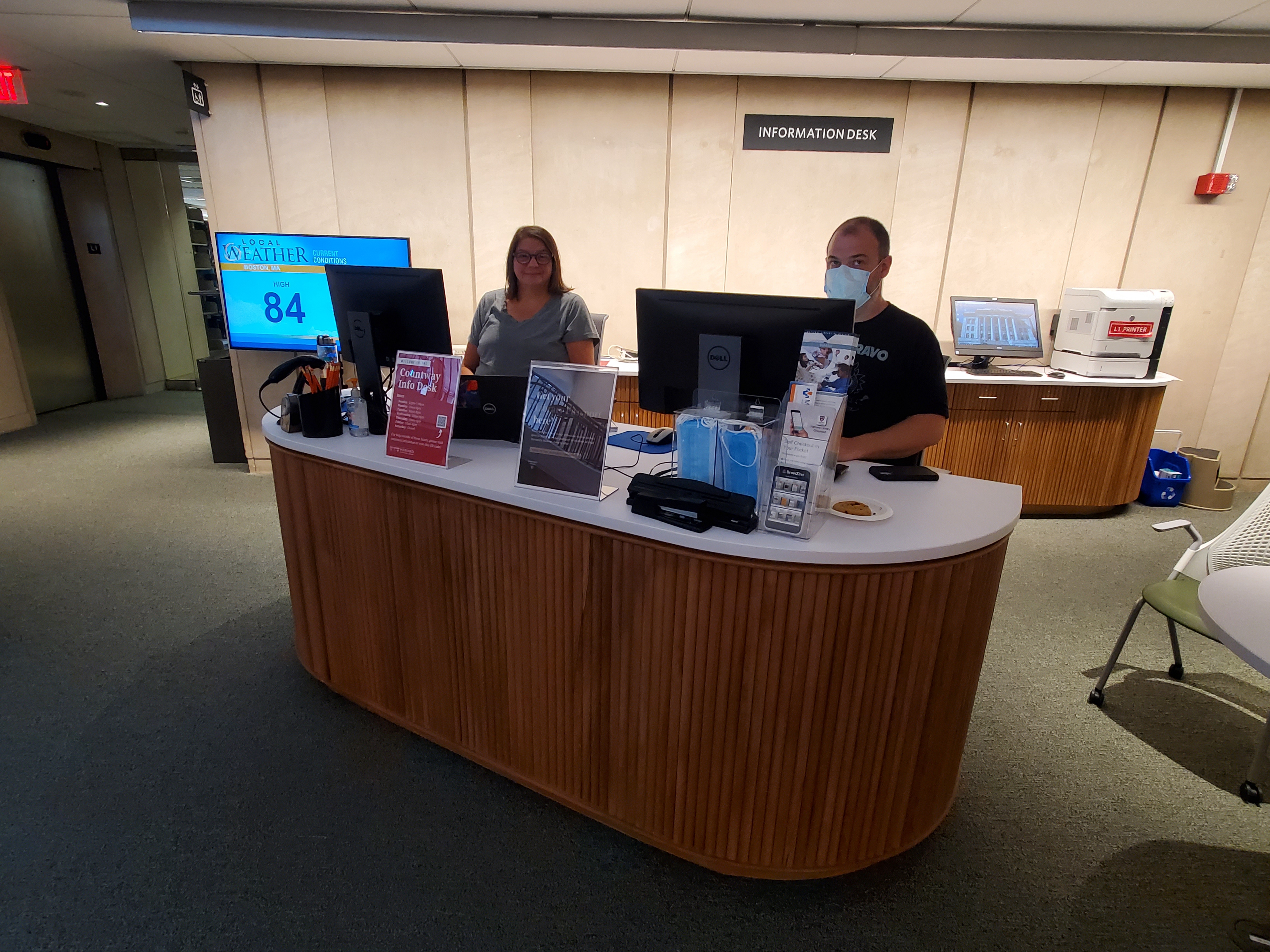 Upcoming Meetings
The next Countway all-staff meeting is on Wednesday, August 24th at 1pm in the classrooms on the first floor. Scott Lapinski will be presenting on Digital Initiatives.
We look forward to an exciting fall semester!
Elaine