Week 95: Resuming Library Operations for January 24th and Beyond
Resuming Regular Library Hours
Beginning Monday, January 24th, we will resume regular Countway business hours (M-TH 8am-9pm, Friday 8am-6pm, Saturday 10am-6pm, Sunday 12pm-9pm). There is no longer a reservation system in place; the library will be open to all HUID holders (not just students). CHOM hours are Tuesday-Friday, 9:00am-4:00pm, by appointment.
Test Kit Drop-Off Locations
There are now some new drop off locations for COVID test kits. If you are onsite, Kresge is the closest location to Countway. When you enter the building, security is directly in front of you and the drop off bin is to the right/behind you.
The locations below are all open to drop off your kits, however we have been asked to pick up our test kits from the NRB location only for now. I also have extra test kits and N95 masks in the admin suite. We do a regular drop-off of tests on early/mid Wednesday mornings if you prefer to leave your test sample with MJ for us to drop off for you. However, remember that tests have to be submitted on the same day that they are taken.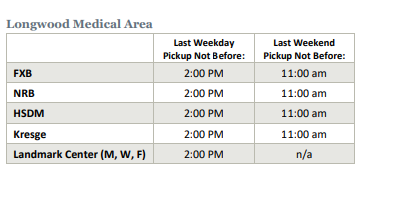 At-Home Test Kits
Residential households in the U.S. can order free, at-home COVID-19 tests from USPS.com. Use this link to order your at-home tests.
We are looking forward to resuming regular operations and welcoming our LMA community back into the building.
Elaine