Week 79: The Evolution of Countway Continues
The Countway Connection Café and the Countway Coop will both open on Monday, September 20th inside the Huntington Avenue atrium. The Coop will offer merchandise for all three Longwood Campus schools, and the Café will feature a barista and grab-and-go food options. As a reminder, all building safety protocols will remain in effect. Face masks are required at all times and eating and drinking are prohibited inside the library itself. Throughout this past week the Café invited us to stop by for coffee, snacks, and grab-and-go lunches to test. The Coop register system arrived and the merchandise is in place to purchase. Below are the hours of operation for these terrific new features of the library.
Café hours
Monday to Friday, 9:00 am to 4:00 pm
Coop hours
Monday to Friday, 10:00 am to 5:00 pm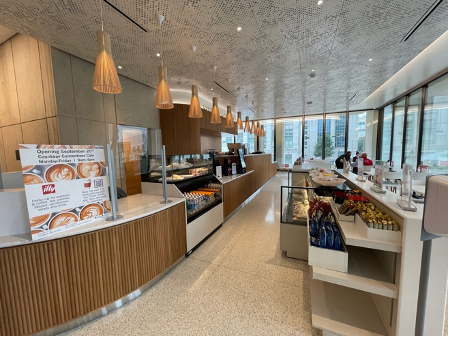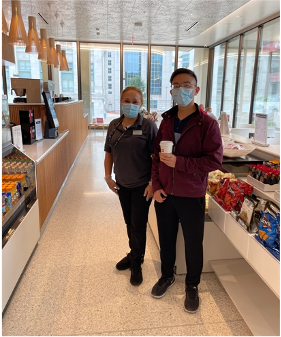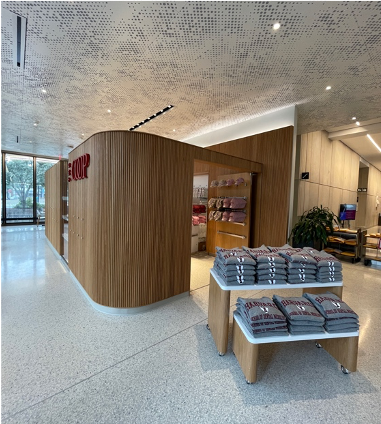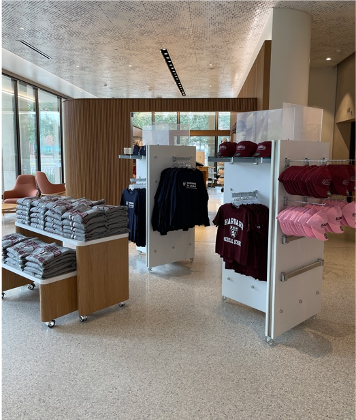 Other general information
Drinking policy
There is still no food or drink allowed in the library, however, we have implemented a new drinking policy. People using the library are now allowed to drink from their water bottles or a straw as long as they keep their mask on, lowering it to drink and then pushing it right back up. Other Harvard libraries are doing this, so, we have decided to give it a try and see how it goes. Food is still prohibited inside the library, but the opening of the Café will allow people to eat/drink in the atrium or outside at their leisure.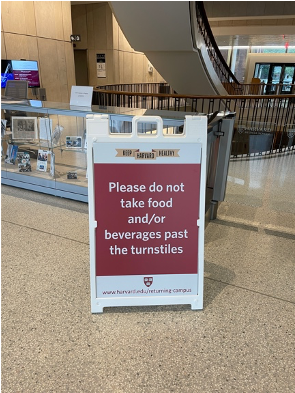 Security updates
Signage has been implemented on L1 and 1st floor indicating emergency exits. The glass doors on 1st floor will be alarmed once the Café and Coop open, and glass doors on L1 and 1st floor will be alarmed once the building hours transition to 24/7.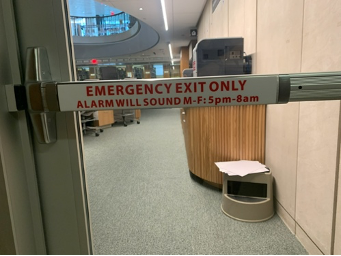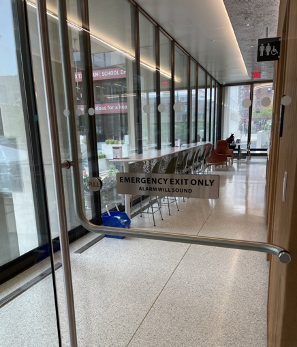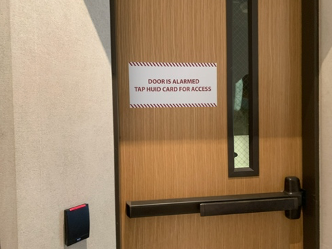 If you are entering the library before it opens, you will need to use the underground tunnels to get into the building. The exterior doors (Huntington and Shattuck) are unlocked upon arrival and locked before leaving for the day by the Security Officer. Turnstile clearance is active only while there is a Security Officer posted. The clearance works the same hours as when there is a Security Officer present (30 min before and after Countway opens/closes for the day). If you enter the building before Security, you will need to provide written consent that you understand and agree to be in the building without a Security Officer present.
The beginning of the academic year marks the time of year for practice fire drills. Drills will be conducted on a regular basis, and all staff are expected to leave the building and move to the quad. Please look for our admin folks who will be holding a sign and taking roll call. Watch for more fire drill procedures in upcoming weekly news.
Final reminders
Countway Library will be closed on Monday, October 11th in observance of Indigenous Peoples' Day. The library will remain open the Saturday and Sunday prior. Please see below important dates to mark on your calendars:
September 28th 10:30 to 11:30 am- Countway All-Staff Meeting
September 30th 2:00 to 3:00 pm- Countway Town Hall Meeting
October 13th 2:00 to 3:00 pm- Countway DIBAR All-Staff Meeting
October 25th 3:00 to 4:00 pm- Countway DIBAR Mangers Meeting
Thank you to everyone who has helped Countway evolve into the library it is today. More to come!
Elaine