Week 78: The Evolution of Countway
The opening of Countway Library has been an evolution to say the least. While we anticipated a ribbon cutting ceremony and large gathering to celebrate the completion of the renovation in January, COVID made that impossible. We had to pivot to a more slow and steady reopening of our building and services. Each week something new becomes more fully developed and the building is evolving into a vital and necessary part of campus life.
This gradual evolution holds true to the number of students, staff, and faculty returning to the library. On Wednesday, September 8th, we had 793 swipes through the turnstiles—a record breaking number! I am excited to see this number increase more each week as Countway's services and spaces fully develop and evolve throughout the Fall semester. Below are some updates and opening plans for September.
New signage at Countway
Emergency doors on L1 and 1st floor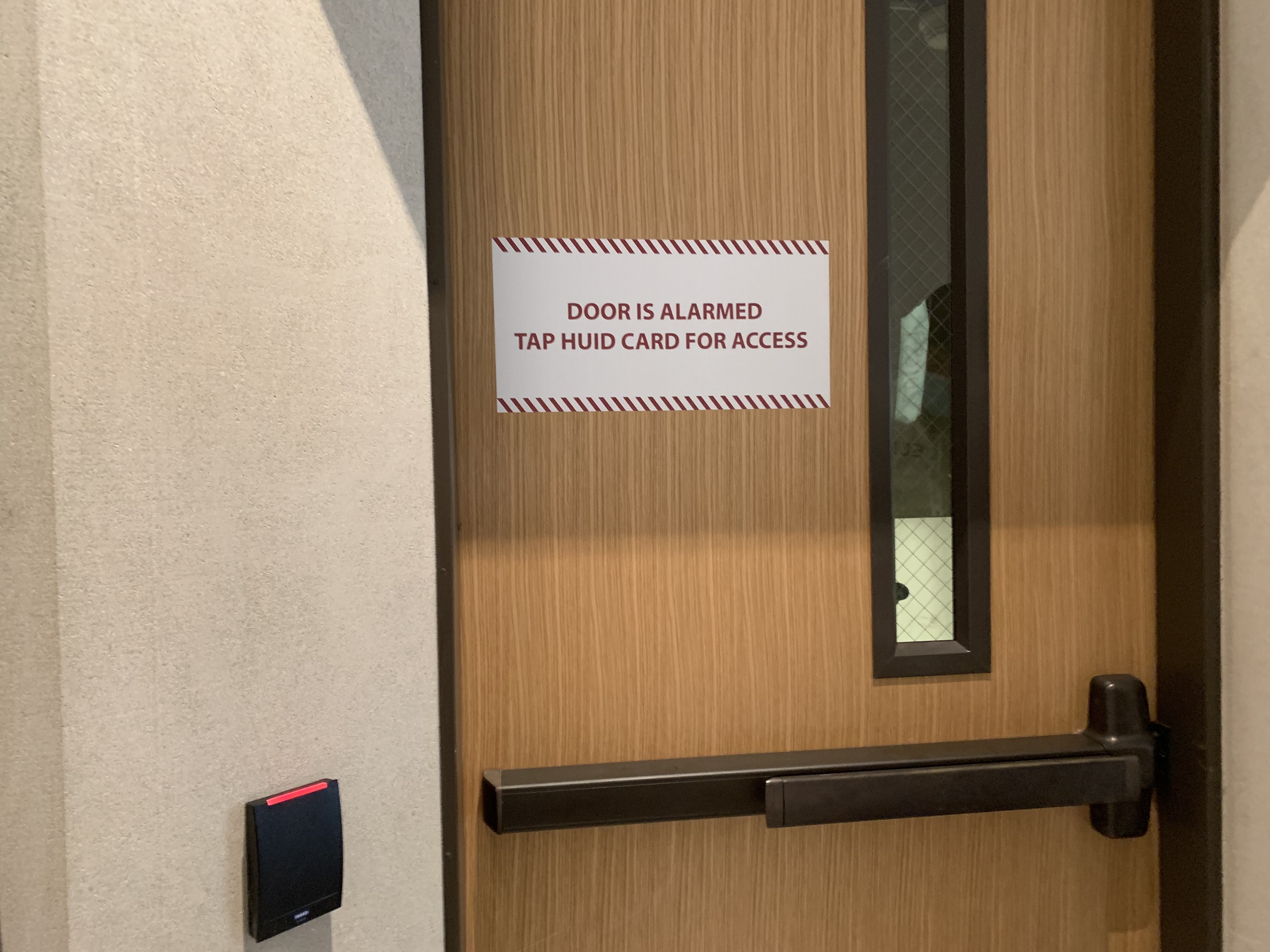 Elbow banners have arrived for the Huntington Avenue entrance. One will be placed near the Countway Community Garden and the other will be placed near Harvard Chan.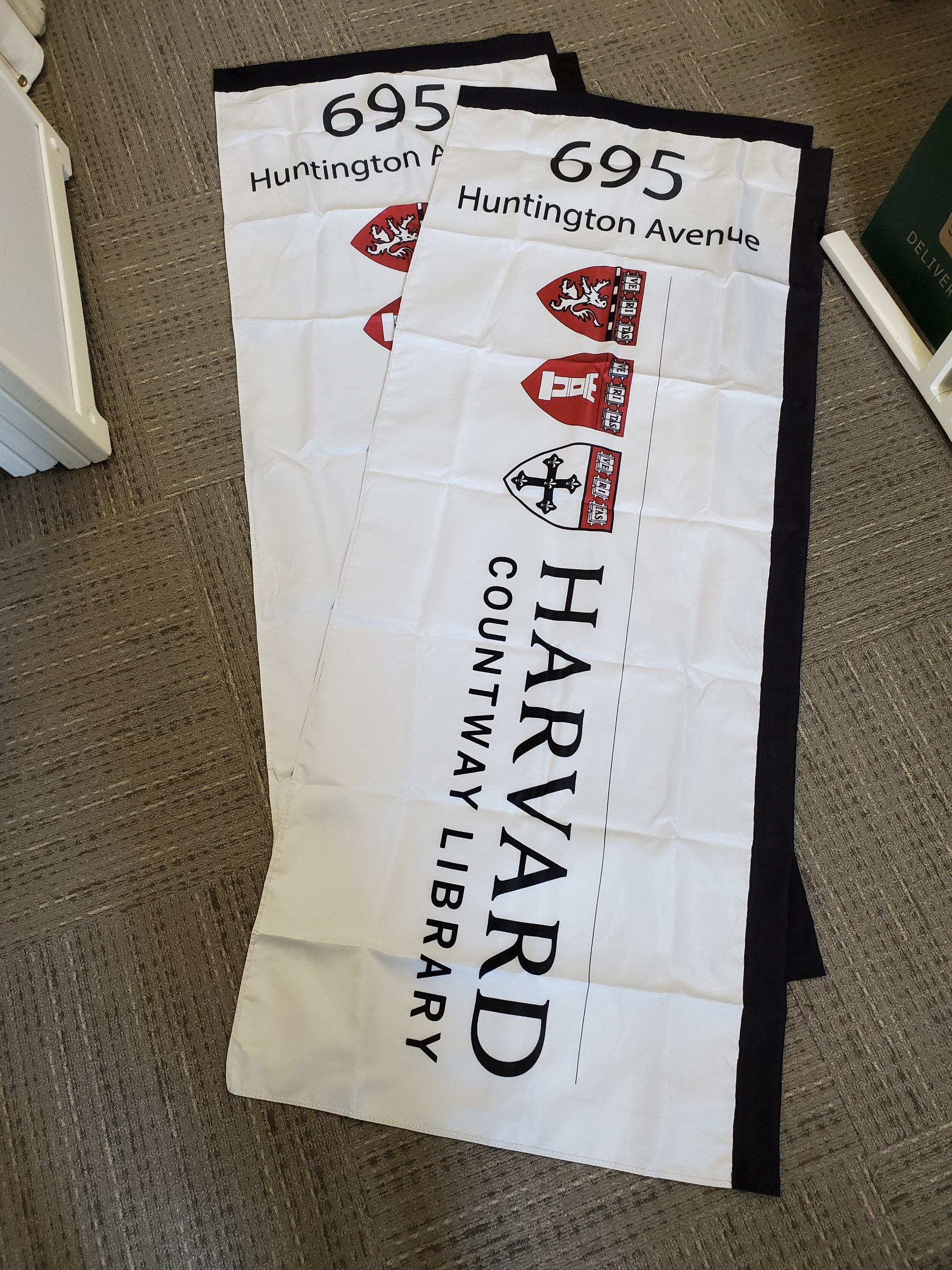 New building features
The Countway Connection Café will have its Grand Opening on Monday, September 20th. The café is located inside the Huntington Avenue atrium, and the hours of operation will be Monday-Friday 9:00 am to 4:00 pm. Features of the café include grab and go food options, a coffee barista onsite, and an electronic POS system for after-hour purchases. You might see the coffee vendor and folks from RA Catering coming onsite next week to train staff and get the space more prepared for opening. 
As a reminder, all building safety protocols will remain in effect: face masks are required at all times, and eating and drinking are prohibited inside the library itself.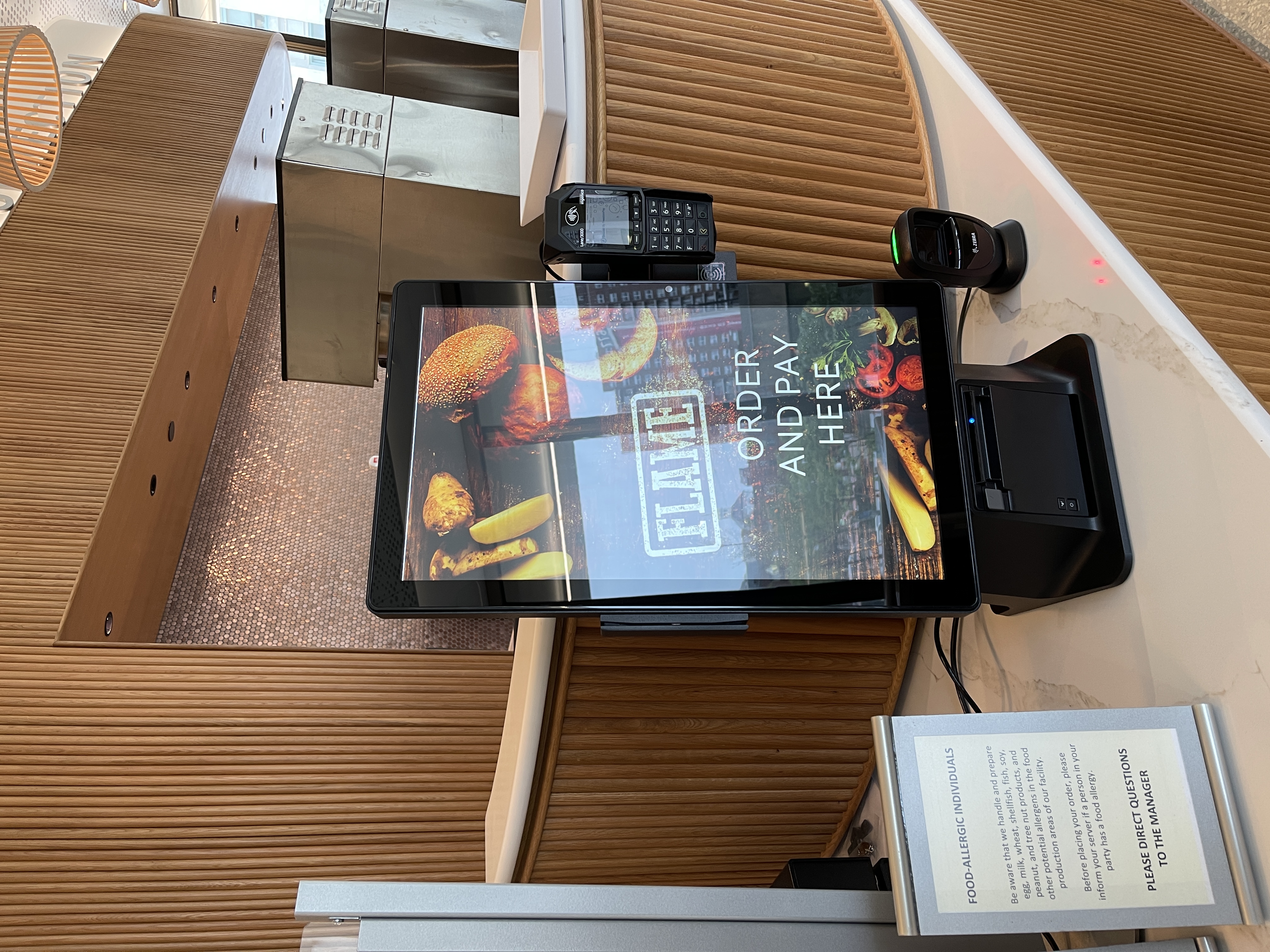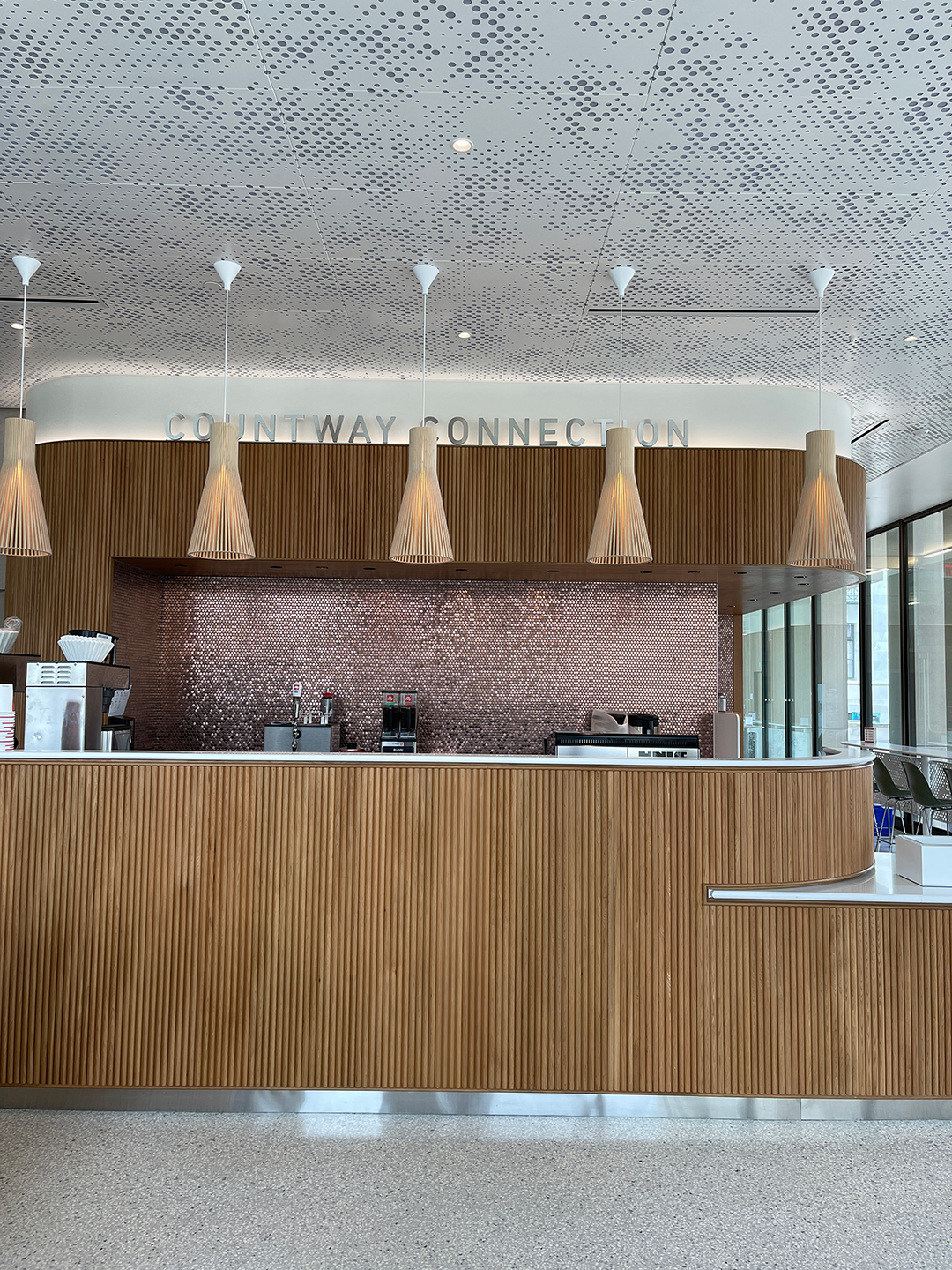 The Countway Coop will also have its Grand Opening on Monday, September 20th! Store hours will be Monday-Friday 10:00 am to 5:00 pm. The Coop store manager has been onsite several times over the past weeks to unpack boxes and set up the shop. The apparel and merchandise will focus on all three schools on our campus!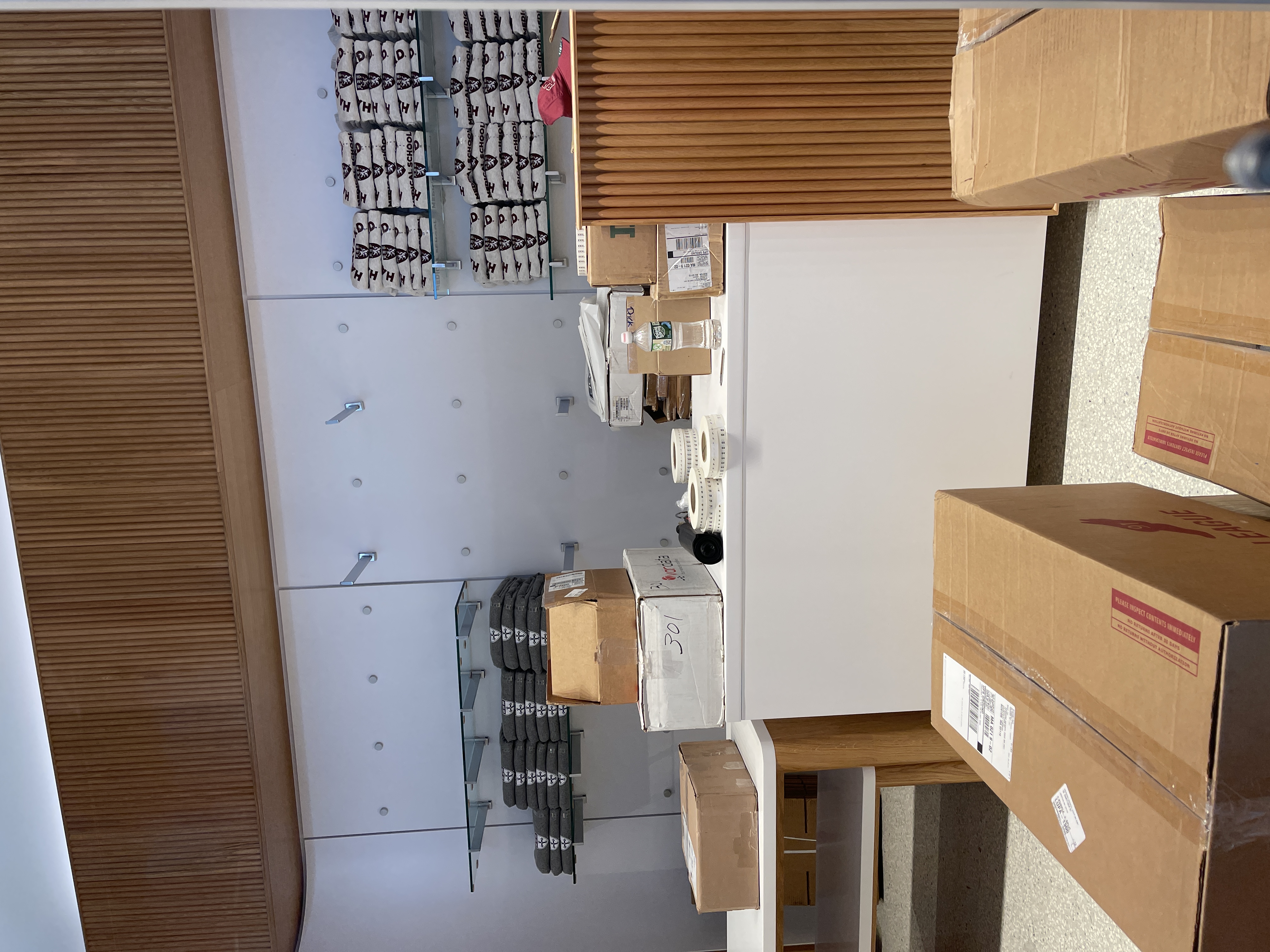 New COVID test kit update
As you know, 3 weeks ago we transitioned from Broad kits to HUCL kits for cost/result speed reasons. Broad kits were no longer being processed beginning September 1st. Due to the mandated increase in testing for undergrads from 1/2x to 3x per week, the HUCL lab is past capacity which is causing a delay in results. The Longwood Campuses will temporarily be back to using the previous Broad kits until further notice in order to alleviate the strain on HUCL. Broad kits will be dispensed again beginning next Friday, September 17th. During this time and indefinitely, BOTH HUCL and Broad kits will be collected and processed and both types of kits can be dropped in the same bins. If you or someone on your team needs help with test pick up/drop off, please reach out to someone in Admin and we will assist you in getting you a kit on our weekly schedule.
Lastly, I would like to remind you that masks are still required at all times at Countway, and food and drink is still prohibited. We have increased walkthroughs and intercom announcements to 5x a day in order to remind folks of these policies and have noticed fewer mask violations because of this. Our next Town Hall meeting is on September 16th from 2:00 to 3:00 pm. Thank you all for your continuous support and diligence in helping Countway evolve into the library it is today. More exciting things to come, stay tuned!
Elaine