Week 75: Welcoming Countway Spaces Inside and Out!
The vision for the renovated Countway (to make the library a more welcoming space, to combine/mingle inside library and outside library spaces, and to offer opportunities to promote community and individual well-being) is being realized. People are excited about seeing the new Countway when they return to campus. We are providing much-needed study and on-campus active learning, research and relaxation spaces for students and others who really need it. This week's message focuses on the innovative uses of Countway spaces inside and outside the physical building.
New Map and Signage on Huntington Ave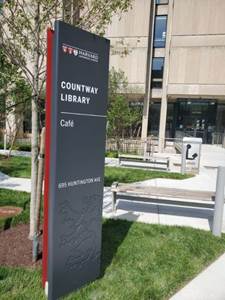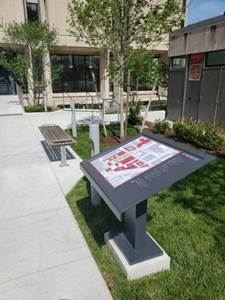 Innovative usage of the space
Our new "skateboard park" is being utilized and is not only ADA compliant but is also being enjoyed by our students on 4 wheels!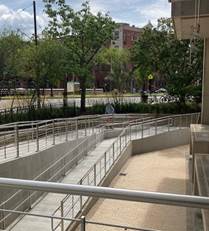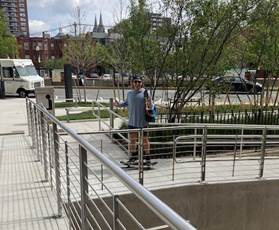 The grass tiered steps on the Huntington entrance have been recently enjoyed by students sitting in the grass areas reading and taking a break in the warm sunshine.
As the weather continues to be enjoyed by all outside, our new benches have been a popular spot for folks to sit and relax while, they are waiting for the bus, T, or a friend.
And of course, our Garden is open for events. In the coming week, we are hosting student orientations and our library tea! Join us on Thursday, August 26th 2:00 – 3:00 for light refreshments!
These innovative uses of the newly renovated outdoor spaces are enhancing our efforts as we continue to build community across our campus as well as our neighborhood. We look forward to more visitors both students and non-students alike in the next coming weeks!
Elaine