Week 65: Library Opening Timeline Approved
I am pleased to announce that SORT met yesterday and approved the Countway opening timeline that was shared at the Town Hall meeting and provided below.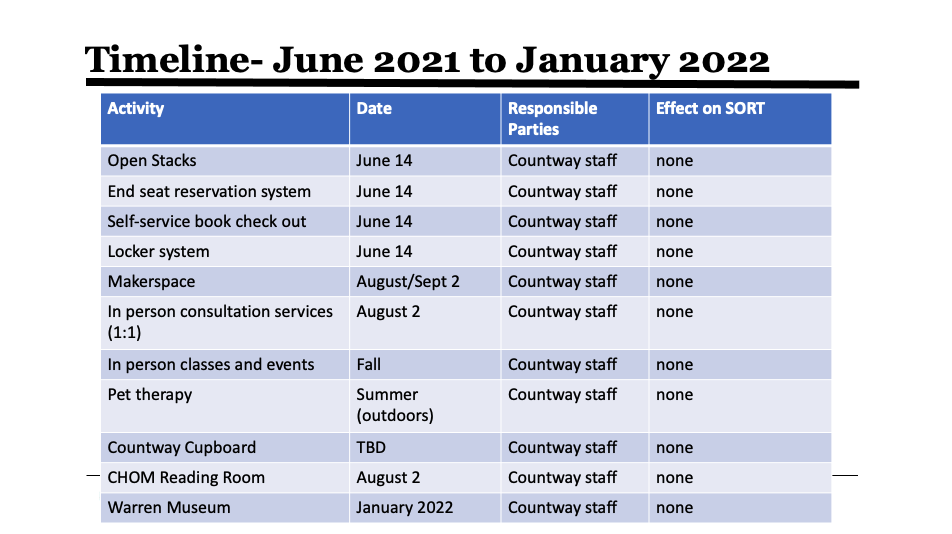 What does this mean? Beginning the week of June 14th…
the library will be open to all HUID holders
mask wearing indoors will still be required
social distancing will still be in place
no additional seats will be added
reservation system will be eliminated
the Shattuck St. entrance will be open (ID access only)
safety ambassador desk will be removed
safety ambassadors/concierge will sit at a podium at each entrance to welcome patrons and help them navigate the building
stacks will be open
self-checkout will be available (Russell Reading Room and L1)
although library hours will not be changing, there will be no cleaning from 1-2 pm and users will not have to exit the building during that time
Countway Library website will be updated to announce opening to all HUID holders and other changes
thorough cleaning of L1 & L2 will occur and cleaning kits will be provided in the restrooms on those floors
thorough walkthrough was done to identify miscellaneous items on L1 & L2 that are not needed and will be removed
recruitment is underway for LHTs and training will occur
Countway Cuddles on the quad will take place this summer (late June/early July)
signage is being updated throughout the library
lockers will be operational and Grab & Go station will continue at Huntington entrance
no food and drink in the library except in café area (bring your own)
Please join me at future Town Hall meetings, and stay tuned for my weekly messages outlining further preparations needed by August.
Upcoming Town Hall:
Thursday, June 24th 2:00 to 3:00 pm
Feel free to contact anyone on the opening team (Elaine, Meredith, MJ, Yasmina, Len, Luciana) for items we might have missed. We look forward to a more robust opening of Countway!
Elaine