Week 64: Library Opening Update
There are some library opening items that have evolved since the last Town Hall meeting, and I want to use this weekly message to update you on our timeline given the HMS and Commonwealth announcements last week.
First, here are the things that have not changed:
Mask wearing in Countway is still required
The seat reservation system for study spaces still exists
Library hours (will not change until August 2)
Social distancing still required
No eating and drinking in the library (just your own food at the Café tables or outside)
Regular walkthroughs of study spaces and monitoring violations
No reservations from 1-2pm for cleaning
Café and COOP still remain closed
Weekly testing cadence is still required
Items that have changed this week:
Library open to all HUID holders for study only
BML board members with IDs are allowed in the library by appointment
Crimson Clear attestation is no longer needed to enter the building
All staff are required to be vaccinated and need to send proof to HUHS
Summer COVID testing collection hours (see signage and Staff on Track newsletter for details)
Upcoming changes:
The timeline below has been submitted for approval to HMS SORT. The items on the timeline have been approved, the opening dates are moved up from August and need approval for an earlier start date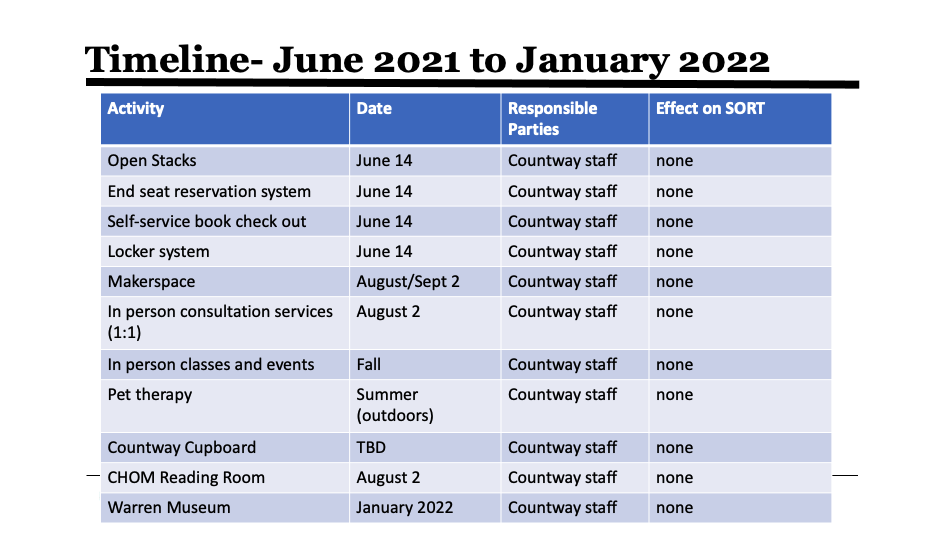 The Shattuck St entrance will open on June 14
We are in a constantly evolving environment. Please stay tuned for more updates at our next Countway Town Hall meetings scheduled as follows:
Thursday, June 10th 2:00 to 3:00 pm
Thursday, June 24th 2:00 to 3:00 pm
As always, if you have any questions or concerns about opening procedures, contact me or the opening team, and feel free to fill out the Countway Anonymous Reporting Form.
Elaine