Week 19: Countway Service Updates
Self-isolation has been difficult yet Countway Library staff are welcome back to work onsite and perform necessary services in support of research, education, and patient care. Keeping health and safety protocols, we are rewriting the rules around how we work and interact. Welcome to the new normal --a mix of remote and limited onsite work. We have moved from surviving to thriving during the pandemic while practicing social honoring and reconnecting with each other, the space called Library, and our community. Here are some highlights of onsite service updates:
BML Inventory—We have now completed two-and-a-half team cycles and we have made some real progress with the inventory. To date, we have looked at 2,515 monographs on both L1 and L2 and 558 serials on L2.
BML Inventory CHM—Progress also continues on the inventory of BML collections managed by the Center for the History of Medicine. Since onsite work commenced on June 22: Hanna Clutterbuck-Cook, Carolyn Hayes, and Amber LaFountain have reviewed 467 duplicate and uncatalogued books to determine HML or BML ownership; Meghan Bannon Kerr and Charlotte Lellman have reviewed 75 boxes (approx.. 37 linear feet) of visual materials to identify BML-held photographs, prints, and drawings; Jessica Murphy and Stephanie Krauss have surveyed approximately 280 incunables; Emily Novak Gustainis and Jessica Sedgwick have assigned provenance to 48 collections on the "undetermined ownership" research list; and on July 22, Dominic Hall resumed onsite work related to finalizing the inventory of objects and artifacts. With work commencing at HD on August 3, Jessica Sedgwick is now drafting the protocol for conducting our review of rare books, special collections, and archives in offsite storage. Additionally, Center staff have contributed over 317 hours towards the remote review of bound photostats of Countway Library catalog cards.
Materials Now Available from Countway through Grab and Go—We needed to send some print-only materials for scanning for integration into the learning management system. We pulled them and MJ was able to put them in a brown bag and bring them to the guard station at the C link. Spruill picked them up after hours. Given the success of this pilot, we will be offering Grab and Go pick services for Countway only materials to our LMA Community at the guard station on a weekly basis.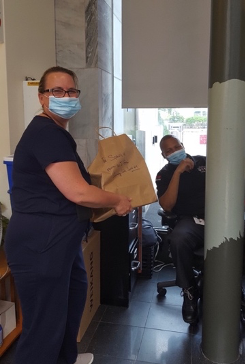 HD Deliveries—Starting next week, we will pilot deliveries from HD. Once a week, HUMS will bring a delivery to the Shattuck Street entrance and the security guard will accept the delivery. Then the staff will retrieve the bins from the lobby area towards the end of the specified workday. We are starting with materials needed by CHOM from HD and will expand to other types of deliveries once we work out the kinks.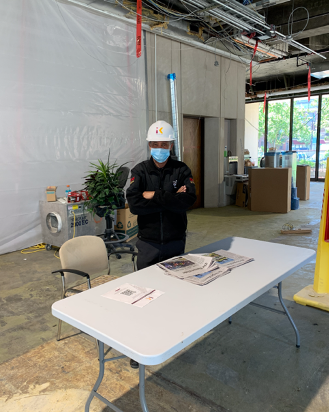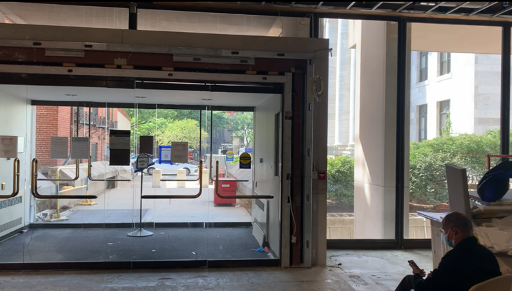 Book Return—Security is emptying the book drop and placing items in the closet for quarantine. Access services are retrieving the items and checking in returned books thus saving our community a trip to Lamont or Widener.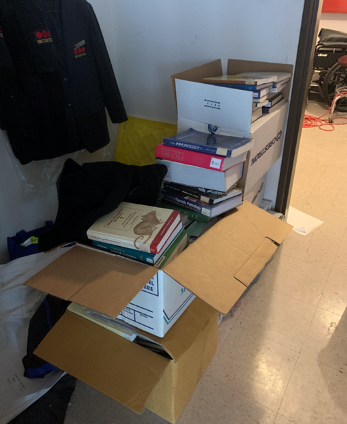 Records Management—Meghan Bannon Kerr continues to advance records management and institutional archiving services. Next week, the Center and the Harvard University Archives will kick off a trial run of delivering critical HMS/HSDM/HSPH client records in offsite storage to Longwood Medical area offices, such as the HSDM teaching practice and the registrar's office. This represents the first step in bringing records management retrievals back online. As part of this process, Meg has had to review the physical control files maintained in the Center to track down Harvard HD client authorizations and is coding records onsite for transfer to HD.
Scan and Deliver—Matthew, Len, Michelle, and Spruill continue to work together to identify books for scanning and entering into Canvas. Materials will be scanned by digitization services across the river. See Grab and Go above.
Voices from the Community—Last week, OCER reached out to ask if Countway was interested in recording a 'Voices from the Community' segment. You can find these videos in Dean Daley's messages that he sends out to the HMS community. This was a great opportunity for the library to show how we have been able to leverage new opportunities for providing onsite and electronic resources and services to the LMA community, continue the construction project, focus on providing access to evidence-based resources, and integrate library services into the curriculum. I was joined by Paul Bain, Emily Novak Gustainis, Leonard Levin, Meredith Solomon, and Luciana Witowski to answer the following questions:
What changes have you seen in your role and your team during the COVID-19 pandemic? 
What have you learned/what has surprised you the most during the pandemic?
What are you most looking forward to when the HMS campus returns to something closer to the norm we knew?
We emphasized that although the physical library building is and still remains physically closed and under construction, library services remain open during the pandemic. Despite the challenges and difficulties during this time, we have moved beyond surviving to thriving and we look forward to welcoming everyone to the newly renovated Countway Library in the future. Overall, it was an enjoyable experience. Watch the video here.
Elaine