Week 162—Countway Library: Classrooms, Study Rooms, and Event Spaces
Reservable Space at Countway
Thanks to all who joined the AV/IT training for the L1 classrooms and study rooms on Wednesday. If you have further questions, please reach out to Ryan Campbell (ryan_campbell@hms.harvard.edu).
I'd like to clarify the room reservation system for the new classrooms and study rooms on L1. The three large classrooms (L1-024, L1-028, and L1-032) are reserved and managed through Room Scheduling (Campus Planning). Room Scheduling uses EMS to reserve spaces throughout campus. The library does not control EMS, therefore if you have any specific questions or concerns regarding who can access the site to reserve spaces, please reach out directly to Room Scheduling (room_scheduling@hms.harvard.edu). This is the same protocol for the rooms on the library's 5th floor.
The smaller study rooms on L1 will operate the same way as the study rooms in the Russell Reading Room on the 2nd floor. Scott and his team have diligently worked on a reservation system using LibCal. If a student would like to reserve a study room, they scan the QR code and follow the instructions that are provided outside each study room (image below). This leads them to reserve space directly through the LibCal site. By September 5th, Scott and his team will have added all the new study rooms that are located around the perimeter of L1 into the LibCal system. Students can also visit the Countway Library website to be directly linked to LibCal, which allows students to reserve study rooms prior to coming onsite.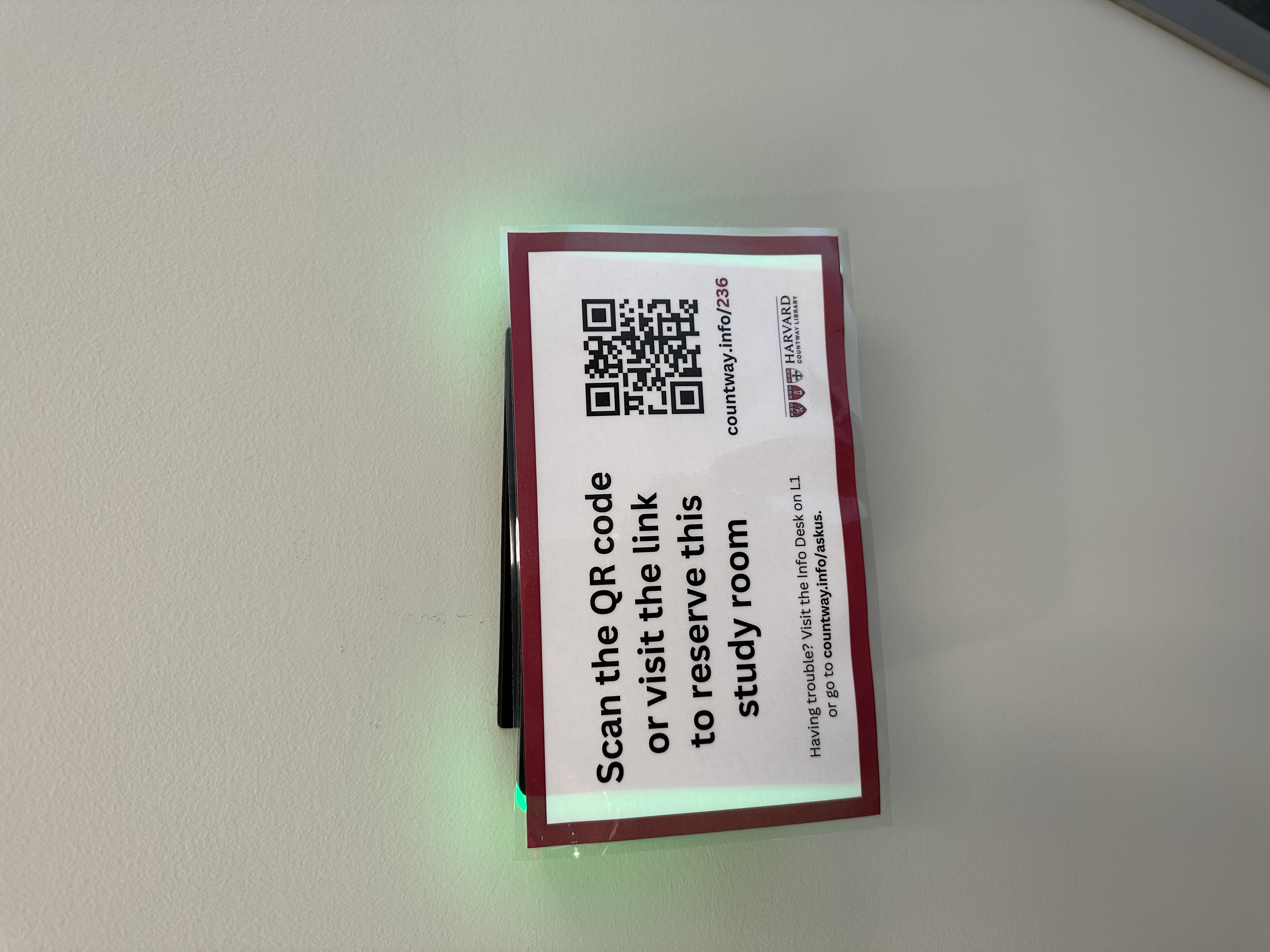 Thus, there are 2 different systems that the library uses to reserve classroom and study spaces in the building: EMS (for 5th floor and large L1 classrooms/event rooms), LibCal (for small study rooms on L1 and 2nd floor).
I now want to clarify the use and reservation of the 1st floor event spaces, rooms 102 and 103. First, these rooms are not for ongoing classes, and therefore not part of the EMS system. Luciana manages the reservations for the 1st floor event spaces, via filling out this form. The 1st floor event spaces may be used by students to study when there is no reservation. Because the classrooms on L1 are specifically for curriculum ongoing based classes, they will not be available for student study. Food is allowed in the 1st floor event spaces 102/103, because those rooms are for events, not ongoing curriculum-based classes. Food is not allowed in the L1 classrooms as they follow campus policy on teaching classrooms (where no food is allowed, i.e., TMEC). In the study rooms, no food is allowed throughout the library on any floor. Students may have covered water bottles or coffee cups at their study space.
For event spaces on the 1st and 5th floors, departments may request food. It is the library's policy for rooms 102/103 that only RA Catering be used. This ensures cleanup and setup, and does not burden library staff. For the 5th floor, the library is not responsible for those rooms, so Room Scheduling does allow outside food delivery and different room setup options. However, if alcohol is going to be provided, all events should use RA Catering because you need a certified bartender and a liquor license. If you need to reserve one of these event spaces and would like clarification on policy, contact Luciana.
Resource Fair
The Countway Resource Fair is an annual event that promotes emerging tech and helpful library services for Harvard Longwood faculty, staff, students, and postdocs. Attendees will have the opportunity to learn about some of the amazing tools that Countway Library has to offer and meet vendors from our wide range of resources, all in a fun and festive atmosphere! Mark your calendars now for the 2023 Countway Resource Fair on Thursday, September 14th from 11am-4pm, located in the newly renovated L1 & 1st Floor of Countway Library.
Save The Date—September 27th, Countway Renovation Celebration

Upcoming Holidays
The library will be open on September 4th (Labor Day) for student study only. There will be hourly workers, no regular staff. Security will be present.
Countway Library will be CLOSED on the following dates:
Monday, October 9th Indigenous People's Day /Columbus Day *
Friday, November 10th Veterans Day *
Thursday, November 23rd Thanksgiving
Friday, November 24th (Observed Holiday)
Friday, December 22nd – January 1st Winter Recess
*Library closed for staff (potentially open for student study only if we can find LHTs)
Upcoming Meetings
Next Town Hall, Wednesday, September 6th
Next All Staff Meeting, Wednesday, September 20th
*All meetings are from 1-2pm in event spaces 102/103 and food will be provided
*Reach out to MJ if you or your department would like to present at the All-Staff Meetings anytime throughout the academic year
Have a nice weekend!
Elaine