BML Ether Painting and Fire Back Removal
The painting and fire back removal has been rescheduled to a later date in June. We will keep you posted as we continue to coordinate with those involved.
Construction Updates
Painting 1st coat is ongoing this week until 05-23
During Commencement Week, the construction crew will work a modified schedule (6am-10am) on Monday and Tuesday. No construction work allowed on Thursday and Friday of that week.
Ceiling Grid is starting the week of 05-01-2023. The install will follow the same logic as painting above
Acoustic door, HM doors and hardware are scheduled to be delivered middle of next week 05-17 (this is ongoing activity until the end of May)
Flooring & tiling are schedule to start on 05-19 for 2 weeks
Architectural Finishes install process will start June 1st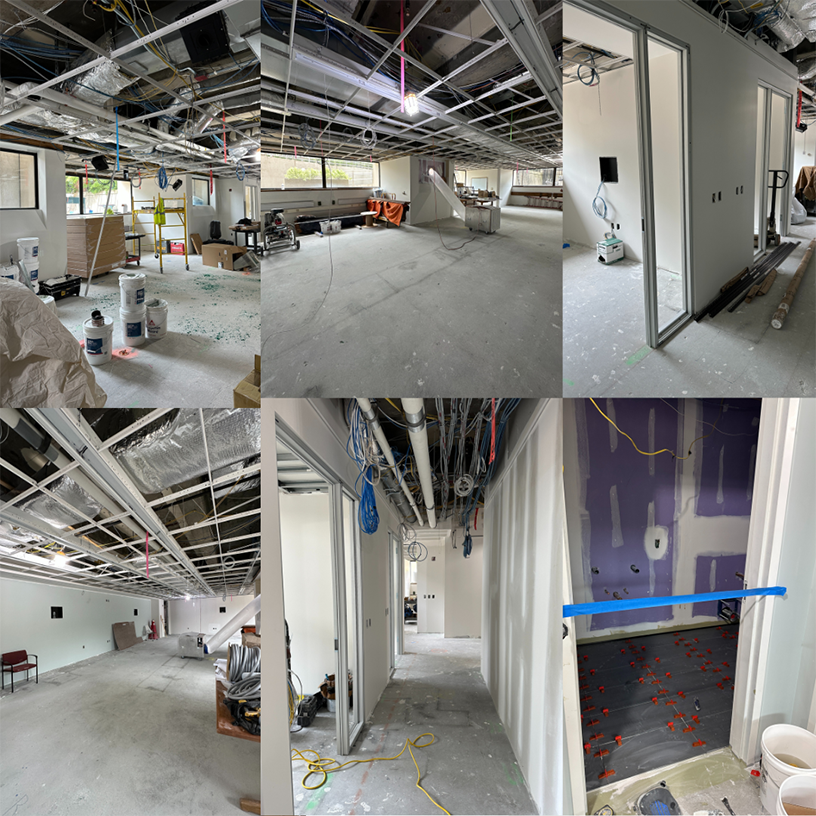 Graduation Activities
Thank you to all who signed up to give tours during graduation week. Outreach sent out calendar invites for those giving tours, but if anyone wants to access the spreadsheet it can be found here: countway.info/gradtours. There will also be library tour info sheets available at both safety ambassador podiums if staff would like to use them as guides/resources. Here is the tour schedule: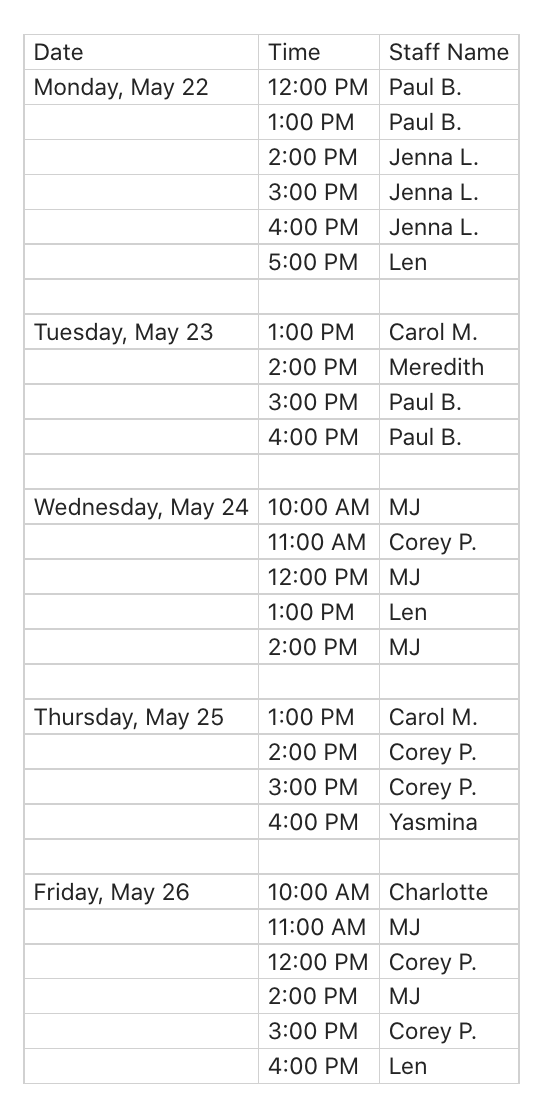 The Coop has reserved the 1st floor classrooms from May 11th through May 31st for graduation regalia pick up and drop off. We may see increased traffic on the 1st floor during the month of May.
Security has agreed to leave the turnstile gates open on Wednesday and Thursday of graduation week from 8am-6pm.
All-Staff BBQ
On Wednesday, May 31st, we will be having a Countway all-staff BBQ in the garden in conjunction with the L1 renovation crew to honor and celebrate the construction project. Please join us from 12-3pm outside for light refreshments.
Building Updates
Here is the new link to request parking in the Countway Parking Lot: https://countway.info/parking
Upcoming Holidays
Monday, May 29th is Memorial Day, and the library will be closed
Monday, June 19th is Juneteenth, and the library will be closed
Tuesday, July 4th is Independence Day, and the library will be closed

July 3rd is a staff bonus holiday. We are working to see if any LHTs might be able to work. Based on staffing, the library plans to remain open for student study.
Upcoming Meetings
Next Strategic Planning meeting is Wednesday, June 14th from 1-3pm in the classrooms. Food will be provided.
Next Countway all-staff is Wednesday, May 31st (BBQ in garden) from 12-3pm
Save The Date
HMS Alumni weekend is June 1-3, and Meredith will be working with alumni services to coordinate Countway tours. We spoke with Security and decided that the turnstile gates will remain open from 8am-6pm throughout the weekend.
Happy Graduation, Happy May!
Elaine