Week 128: What's New at The Information Desk?
New Faces at Countway
A big welcome to our new Information Desk Coordinator: Corey Purcell! As you may recall, this is a new position designed to oversee the Information Desk services.
Corey comes to Countway from Wayland Public Library where they worked as a Library Assistant. A recent graduate of San Jose State University with an MLIS, Corey also previously worked at the Massachusetts College of Pharmacy and Health Sciences as Circulation Supervisor.
Outside of work Corey likes to kayak, bike, and make mixed media collage art. Be sure to stop by the Info Desk and help us welcome Corey to the Countway family!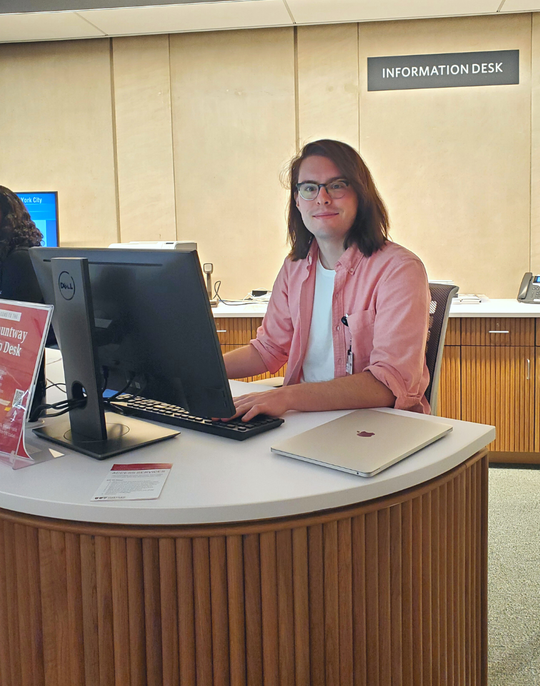 Information Desk Showcases
One of the new features we are implementing as part of the Information Desk are Information Desk Showcases. All library departments are invited to be represented. Countway offers an abundant array of services and expertise, and we plan to showcase them at the Information Desk on a regular basis for easy access! Join us for demonstrations, pop-ups, and presentations from each of our departments, and learn how our vast collections and knowledge can supplement your courses, curriculum, and education.
Information Desk Hours
Sunday: 12:00pm-7:30pm
Monday: 10:00am-4:00pm
Tuesday: 10:00am-8:00pm
Wednesday: 10:00am-4:00pm
Thursday: 10:00am-4:00pm
Friday: 10:00am-4:00pm
Saturday: Closed
Showcase Schedule
We are excited to announce our first showcase schedule, taking place throughout the month of November at the Information Desk! Join staff from the Center for the History of Medicine and the Warren Anatomical Museum as they present a range of topics from Lost Dental Museum collections to BWH archives and beyond. See our updated showcase schedule below:
| Date | Focus | Details |
| --- | --- | --- |
| Wednesday, Nov. 2, 1-2pm | What are archives and how we acquire special collections | Primary source literacy. |
| Tuesday Nov. 8, 1-2pm | History of HMS/HSDM/HSPH societies | Institutional history, relationship of records management to building school archives. |
| Thursday Nov. 10, 1-2pm | HSDM museum objects and manuscripts collections, including Lost Dental Museum selections | Pop-up followed by Warren Anatomical Museum office hours from 2-3pm. |
| Wednesday Nov. 16, 1-2pm | Processing, discovery and access | What it means to process a collection, what are finding aids, and how we make collections discoverable online. We will also have some books on display that highlight the use of Center collections. |
| Thursday Nov. 17, 1-2pm | Brigham & Women's Hospital Archives | Cathy Pate will share information about BWH collections. |
| Wednesday Nov. 30, 1-2pm | Selected printed works from Anatomy Day (11/17) exhibit | If you missed Anatomy Day... |
Staff not only look forward to sharing information about our holdings, but talking to students, faculty, and staff about how they can use special collections, archives, and objects to support their research and enrich their campus experience. If you are interested in showcasing your activities or resources, contact Corey.
Elaine