Week 126: The Resource Fair—A Tremendous Success!
I was excited to welcome the Longwood Campus Community to participate in our 2022 Countway Resource Fair last Thursday. The Countway Resource Fair was an event promoting emerging technologies and helpful library services for Harvard Longwood faculty, staff, and students. What better way to showcase these resources than directly from the company representatives themselves?
Countway's staff was also on hand to answer questions related to teaching, learning and research endeavors. Events took place inside the library and in the Countway Community Garden. Countway Library has been redesigned to offer opportunities for our users to connect, collaborate, and build community. The fair was a great opportunity for people to hear about the many rich resources we have to offer. We had an all-time high of 1,664 turnstile swipes that day! Most attendees stayed for more than 20 minutes, but some stayed multiple hours talking to the vendors and Countway departments.
I want to send a special thanks to our sponsors (EBSCO, JoVe, McGraw Hill, Teton Data Systems, and NEJM Group) for their support and generous contributions which allowed the library to grow the Resource Fair and to connect with more of our Longwood Campus Community. In addition, I want to thank our vendors and departments for their contribution to making the fair a success. A full list of participating vendors & departments is below:
Anatomage, Inc.
CAB International
Covidence
EBSCO
Elsevier
JoMi
JoVe
McGraw Hill
New England Journal of Medicine
Wolters Kluwer/Ovid
ProQuest
TDS Health
Thieme
Third Iron
Access Services
Center for the History of Medicine
Collections
Outreach
Publishing & Data Services
Research & Instruction
Warren Anatomical Museum
After the event, a vendor evaluation was sent out. They mentioned the fair exceeded their expectations and would be happy to participate on an on-going basis. They saw a high number of participants who were genuinely curious and eager to learn about our resources and had effective and engaging in-person conversations with attendees. In fact, one response indicated that this was the best vendor fair they've attended in over 10 years!
As we compile the results from the attendee evaluation, nearly every single person gave the event an "Excellent" (top) rating! The comments were just as encouraging, with countless references to fruitful exchanges with staff and vendors, and excitement about the many new resources they discovered during the event. We knew the fun swag and food (thanks to RA Catering) would be a draw for folks, but the level of genuine engagement we witnessed from attendees was such a delight to see. Overall, attendees thought it was an organized, interactive event, and particularly liked learning about Harvard resources and Countway events, all the free resources, the variety of vendors, and booths showing the literature search tools, videos and research tools which are helpful for study and research. We couldn't be happier with these responses! 
Below is a list of the event raffle winners and some pictures of students picking up their prizes.
| | |
| --- | --- |
| Diana Grass | Fire HD 7 Tablet (contributed by JoMI) |
| Meghan Harshaw | Fitbit Charge 5 Advanced Fitness & Health Tracker (contributed by EBSCO) |
| Rishab Ramapriyan | $100 Gift Card (contributed by Thieme) |
| Nourhan Saeed | Author Series Book Collection (contributed by Countway Library) |
| Felita Zhang | Countway Swag Bag (contributed by Countway Library) |
| Ibrahim Gassama | GRAND PRIZE: Anatomage 3D/VR Anatomy Tablet (contributed by Anatomage, Inc.) |
| Charlotte Thomas | Author Series Book Collection (contributed by Countway Library) |
| Ochuko Ajari | $100 Coop Gift Card (contributed by the Harvard Coop) |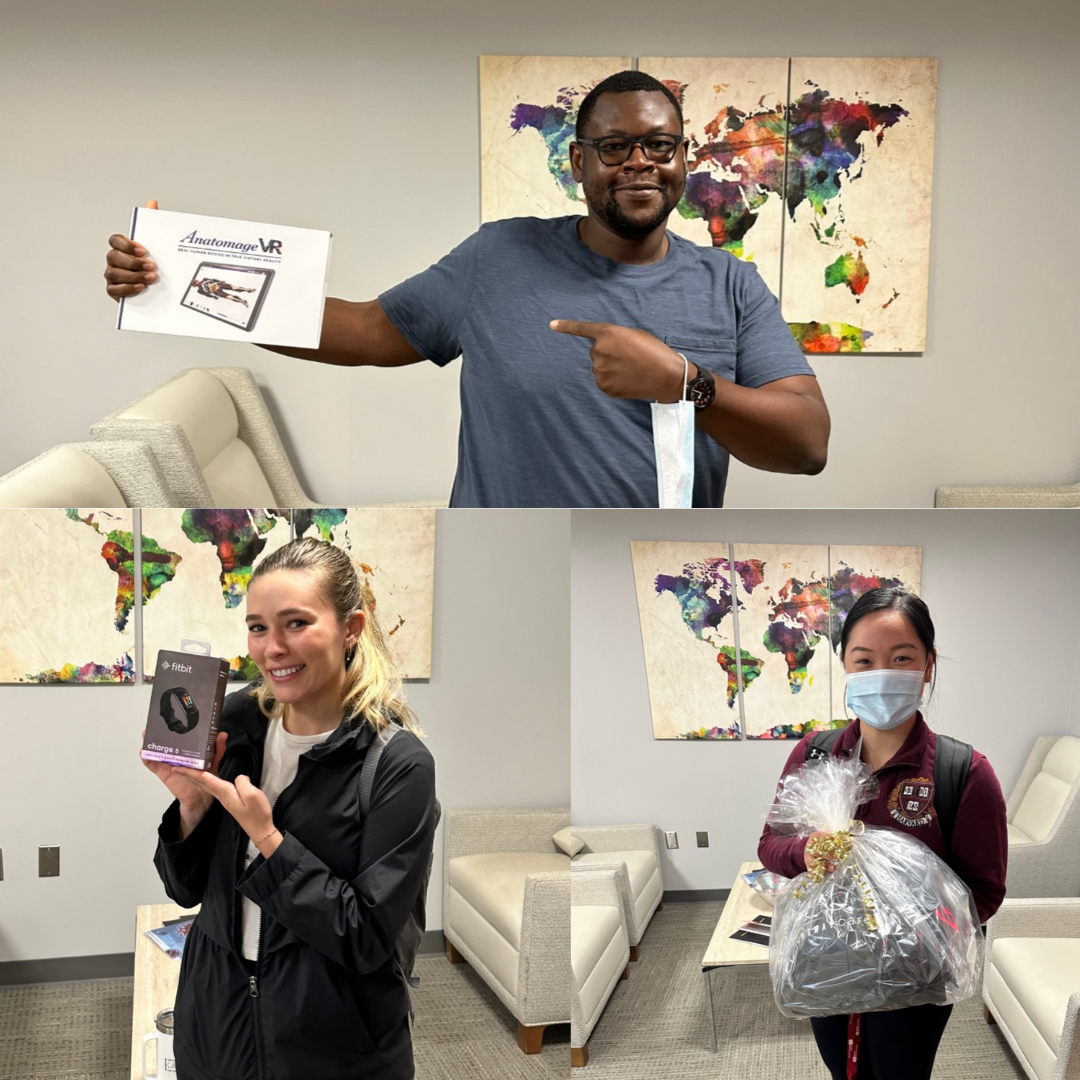 I was thrilled to have patrons come see the newly renovated Countway Library where everyone can explore our new spaces and vast resources. I hope you enjoyed the 2022 Countway Resource Fair, and I am pleased to announce the date of next year's event which will be on Thursday, September 14th, 2023. I look forward to connecting with students, staff, faculty, and the entire Longwood Medical Area throughout the academic year and beyond.
Elaine