Week 108: Building, BML, and New Service Updates
Building Updates
The glass doors next to the Café and Coop on the 1st floor are now alarmed. For now, if someone enters through these doors, the alarm will go off for 30 seconds. It might take time for people to adjust to this new security feature as many individuals started to use these doors despite signage indicating they should not be used. Over time, the doors will alarm for fewer than 30 seconds, but we are trying this out first to get people used to the alarm being turned on at these doors. We hope this will ensure library users will only use the turnstiles. In addition, cameras have been installed to monitor these doors. Below you will find an image of the camera footage monitoring these doors. Security will be overseeing these areas and adjusting as needed.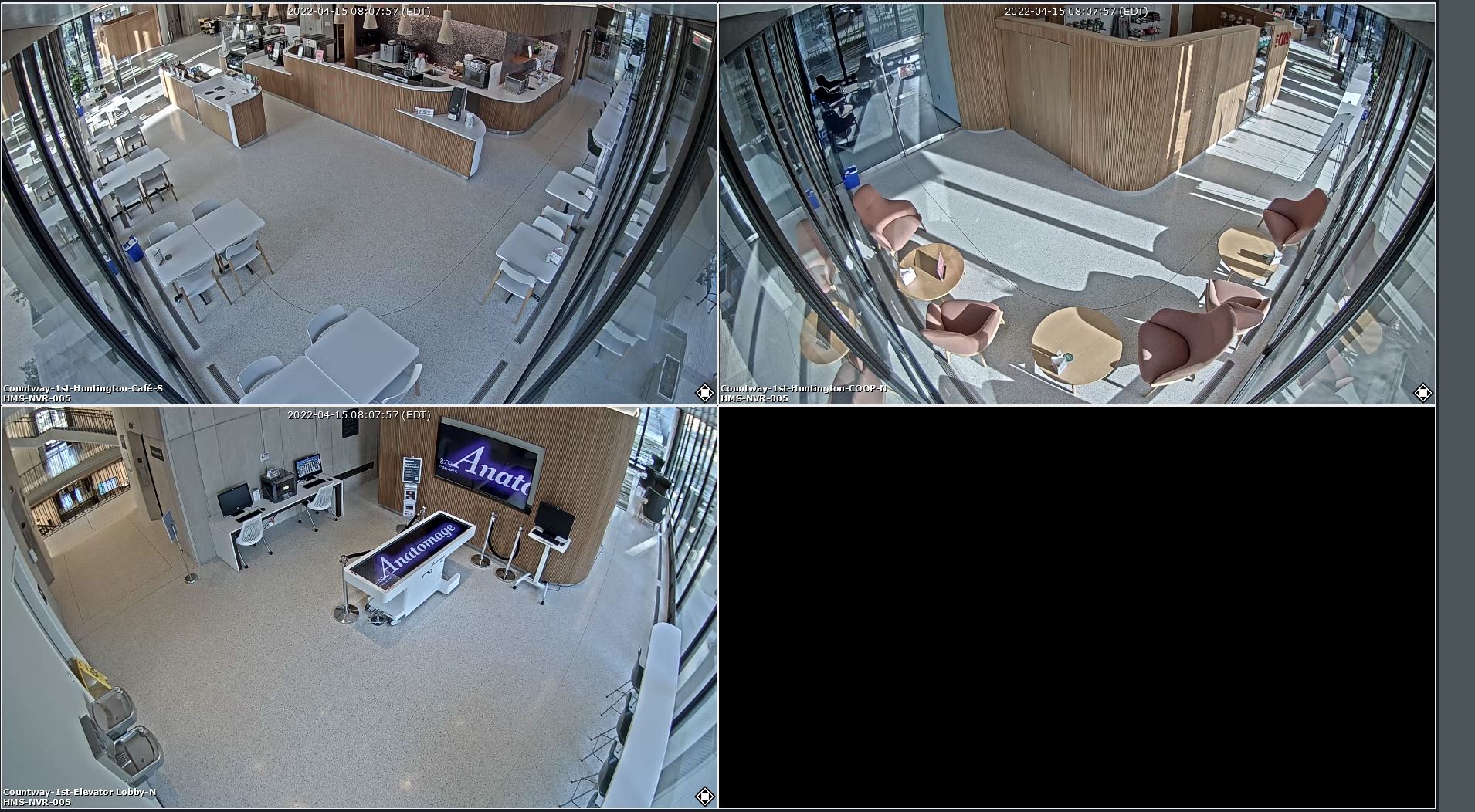 Hub Glass will be onsite next Wednesday, April 27th to replace one of the glass windows on L1. They will be onsite from 8am-2pm and should not interfere with the BML project or stacks.
BML Update
This week Meyer staff begun wrapping fragile materials in preparation for packing CHOM materials (officially starting April 25th). Another Security guard has been stationed inside CHOM to oversee the packing and subsequent moving. We now have three Securitas personnel in Countway—one at the main entrance, one overseeing the packing of the Meyer truck, and one inside CHOM. In addition, we have been informed that the CHOM materials are going into climate control storage at Iron Mountain in Franklin and Dighton, MA. We will be updating the FAQs now that we know the destination of these materials. It will take the month of May to complete the CHOM packing. L2 will be completed by Friday, April 22nd. The BiblioTemps team will return to packing L1 and also clean up L2 during the month of May.
New Services
Countway is now hosting drop-in office hours for Harvard's Office for Gender Equity (OGE). Each Monday in April and May, a representative from OGE will be in Room 236 from 12-3pm to speak with individuals or groups in a private, in-person setting. Stop by to speak with a SHARE Counselor or Title IX Coordinator about anything that's on your mind. Feel free to contact oge@harvard.edu with any questions.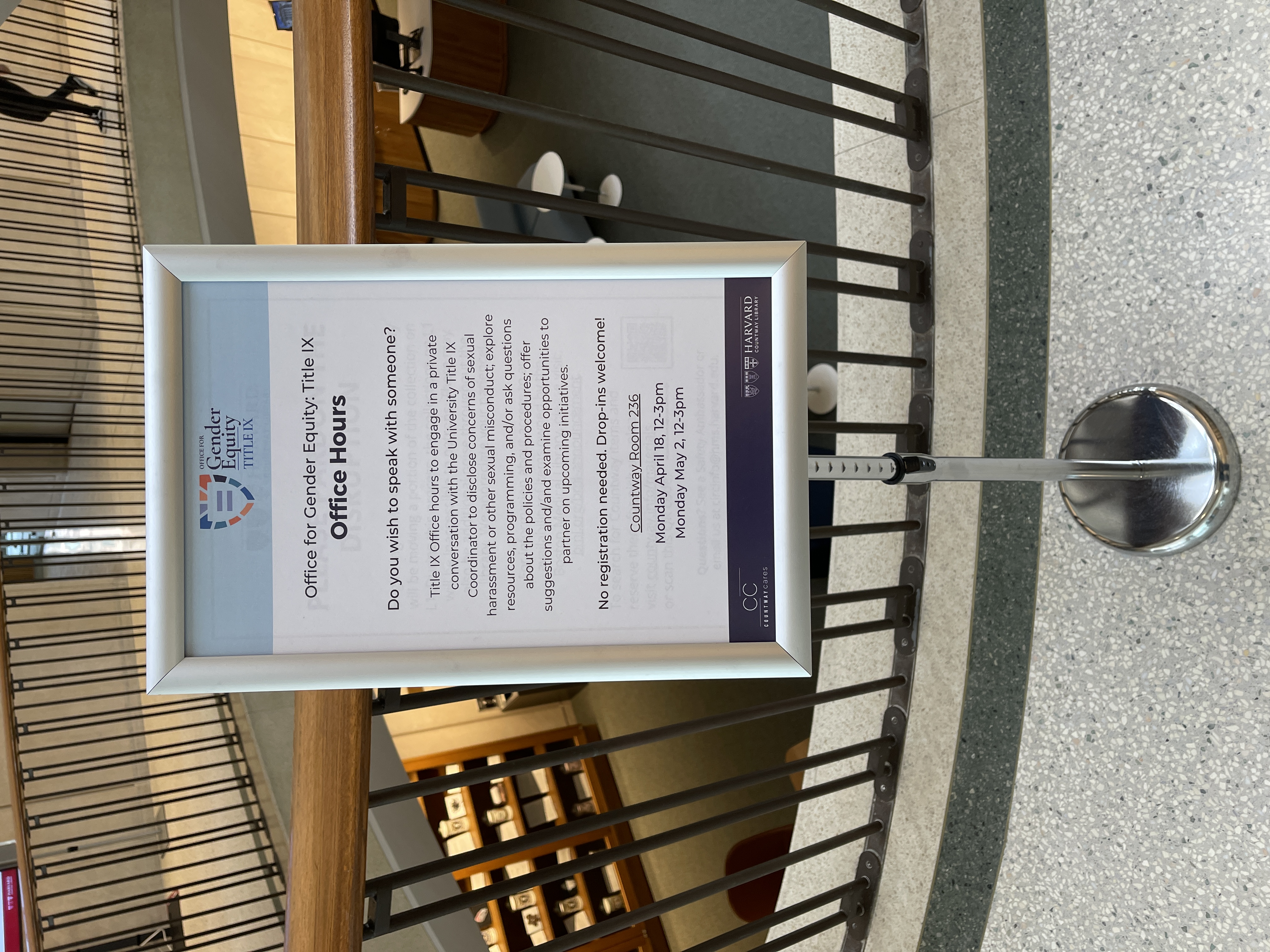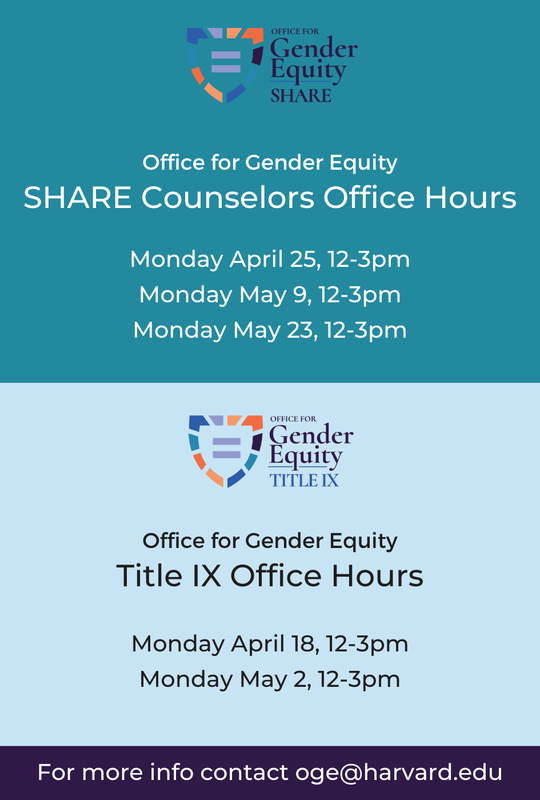 The Outreach Department will be sending out an email to staff to ask for your help during graduation week (Memorial Day weekend included). We will need staff to work a 3-hour shift to be on-hand for Library Tours. A more specific schedule with dates and times will be in the email next week.
In conclusion, I know May is going to be a busy and hectic month as we continue to focus on the BML project and prepare for graduation events on campus. Thank you to all staff who continue to contribute and work diligently on these important projects and events.
Elaine