Week 106: Countway is Buzzing with Activity!
Space use
Countway was busy this week with events, visitors, retreats, and Town Hall meetings run by various other departments. It was nice seeing people back on campus using the library spaces. We are seeing a lot more activity in our event spaces and are receiving several event requests for the garden. I've received a lot of positive feedback from colleagues and the community regarding Countway's event spaces, and I am happy to have them used after several years of not being able to welcome groups of individuals for meetings, events, classes, and collaborations. If you are approached with questions regarding reserving spaces for events, or if you are interested in hosting an event, please contact Luciana and she will assist you with the process.
BML move
So far, 96 pallets have left the building, with 24 boxes per pallet. This estimates 5,184 linear feet of items removed from L2. I greatly appreciate everyone who has pitched in to contribute to this project and who has helped with the complexity of moving items out of the library. This is a tremendous effort by many individuals; I am grateful for everyone's patience, help, and collaboration. The next phase of this project will start on April 11th, where Meyer (moving company) will go into CHOM to "taco wrap" the more fragile items in preparation for packing up CHOM—this portion is scheduled to begin on April 25th.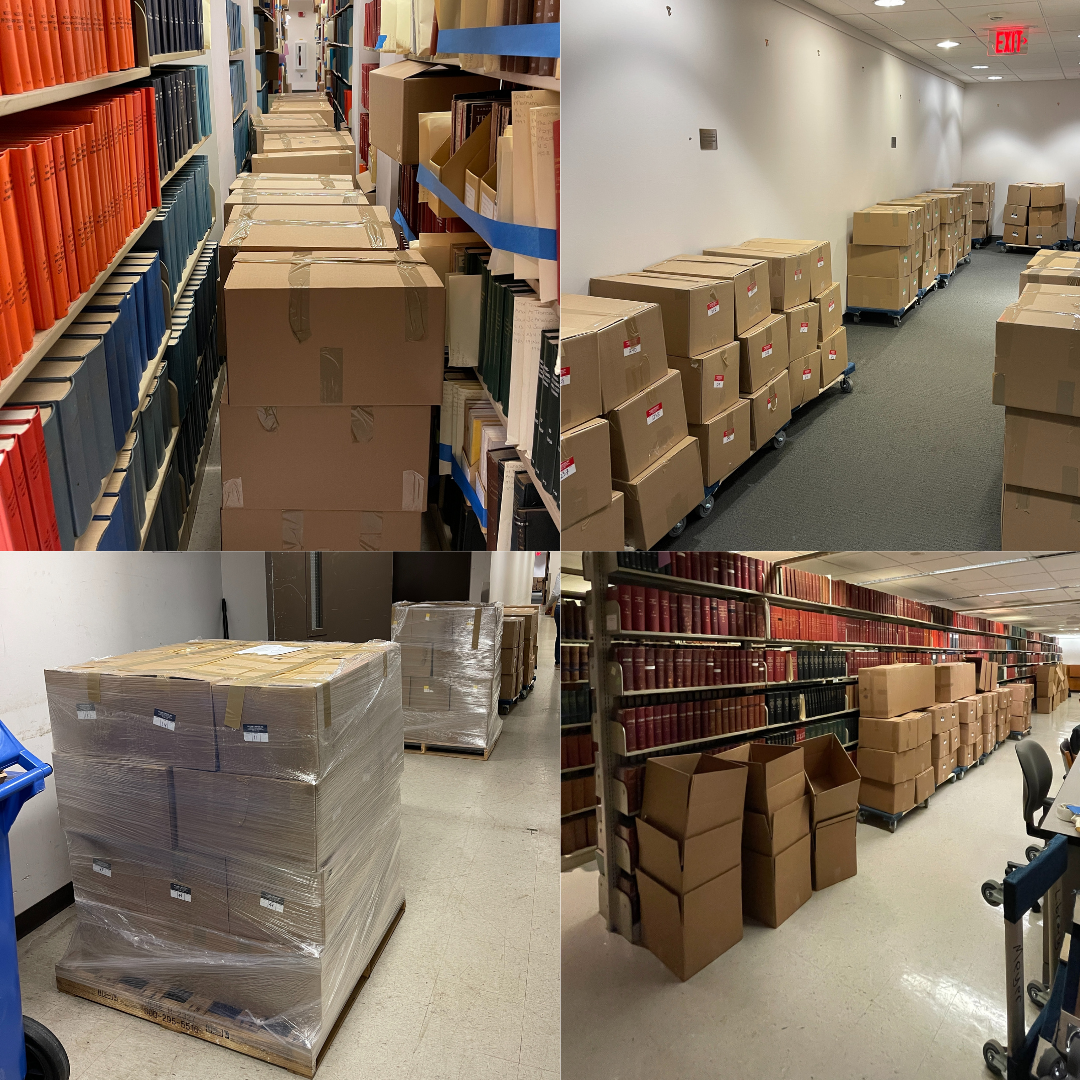 Upcoming meetings
The next Countway Town Hall meeting is coming up on Wednesday, April 13th from 1:00-2:00pm in the 1st floor classrooms. Masks will be required at all times, and light refreshments will be available for you to take as a grab and go option for after the meeting.
The next Countway All-staff meeting will take place on Wednesday, April 27th from 1:00-2:00pm. This will be in person, also in the classrooms on the 1st floor. Please wear a mask during the length of the event but feel free to help yourself to grab and go food options on the way out of the meeting. Scott Lapinski is presenting.
Hours
Countway Library will be open for business as usual on Sunday, April 17th (Easter Sunday), as well as Monday, April 18th (Patriots Day/Marathon Monday). Security will be present, and we are working on staffing LHTs. Please plan your morning commute accordingly on Monday, 4/18.
Happy Springtime!
Elaine