Samuel A. Levine Papers Open to Research
Staff at the Center for the History of Medicine are pleased to announce that the Samuel A. Levine papers are now processed and open to research.
Samuel A. Levine (1891-1966) was a cardiologist with a long tenure at Harvard. An immigrant from Poland, Levine graduated from Harvard College in 1911 and earned an M.D. from Harvard Medical School in 1914. After his service in the United States Army Medical Corps during World War I, he returned to Harvard as a Clinical Professor of Medicine, a position he held, alongside an appointment as a staff physician at the Peter Bent Brigham Hospital, until 1957. Levine was recognized during and after his life for his work as a cardiologist, which included influencing a change in the medical standard for treating patients recovering from heart attacks. He was also known for being the first person to diagnose pernicious anemia and the second person to diagnoses coronary thrombosis, and for his role in diagnosing Franklin Delano Roosevelt (1882-1945) with poliomyelitis.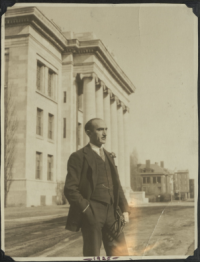 The collection includes notes from Levine's coursework at Harvard Medical School. Two volumes of his diary document his experience in the medical corps during World War I. Scrapbooks compiled by Levine's wife, Rosalind Weinberg Levine, include records from throughout Levine's life, as well as sympathy letters she received after his death. Also included in the collection are photographs, film, patient records and electrocardiograms, and awards.
The finding aid is available online. For more information, consult the Center's website, or contact Public Services.
Photo credits: Samuel A. Levine papers, 1908-1994 and 2016-2017 (inclusive). H MS c448. Harvard Medical Library, Francis A. Countway Library of Medicine, Boston, Mass. https://id.lib.harvard.edu/ead/med00371/catalog.