Join us for A Stitch in Time on November 21
 Join us for the third and final lecture of the 2019 Colloquium on the History of Psychiatry and Medicine, A Stitch in Time: Arterial Repair and the Process of Change in Surgery, 1880-1960 with Justin Barr, MD, PhD, Resident, Department of Surgery, Duke University (https://libcal.countway.harvard.edu/event/5920552).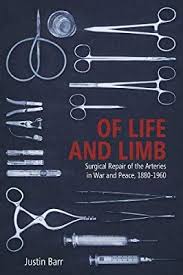 In this talk, Dr. Justin Barr will discuss the subject matter of his book, Of Life and Limb: Surgical Repair of the Arteries in War and Peace, 1880-1960, which explores how social, technological, institutional, and military dynamics interplay to catalyze modern surgical innovation. Barr received his PhD in History from Yale University and his MD from the University of Virginia. He is currently in residency for general surgery at Duke University.
No registrations is required. Thursday, November 21, 4:00-5:30 Countway Library, 5th floor, Lahey Room.
Co-sponsored by: Department of Postgraduate and Continuing Education, McLean Hospital Department of Surgey, Beth Israel Deaconess Medical Center Center for the History of Medicine, Countway Library of Medicine