Countway's book discussion groups are back!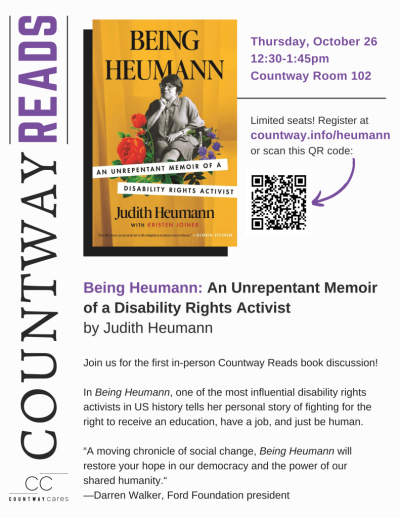 Storytelling is at the heart of medical and public health practice and Countway Library is here to help foster this tradition. Our Countway Reads initiative invites the community to read and learn together by engaging with creative works by people from all walks of life.
These events, held each semester, are open to all Harvard ID holders and facilitated by Countway Library librarians. The discussions provide a chance to connect with other patrons from across the campus and to foster conversations about a wide range of topics including health, medicine, literature, history, culture, art, and more. Our book selections include novels, autobiographies, graphic novels, and beyond. The events will be held in person, light refreshments will be provided, and registration will sometimes include a free copy of the book for advanced reading.
Our first book discussion event of the Fall 2023 semester will take place midday on Thursday, October 26th. Join us to discuss the powerful book Being Heumann: An Unrepentant Memoir of a Disability Rights Activist by Judith Heumann. Visit the Being Heumann event page to register for this event, and visit Countway Reads to learn more about the this initiative!