Countway Honors Black History Month

Supporting Black-Owned Businesses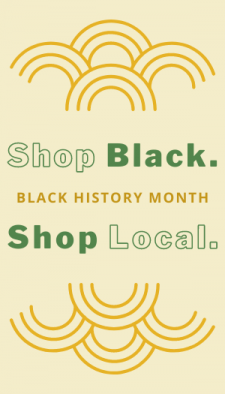 One of the best ways to celebrate Black History Month, in February and throughout the year, is to support local black-owned businesses! Here are a few Boston-area lists to get you started:
BlackBoston.com takes inspiration from the work of the first Africans who set foot in Boston. Use the BlackBoston.com Business Directory of local Black-owned companies, sorted by industry for easy use.
In 2014 Mayor Walsh established the Office of Economic Development, which maintains this list to showcase businesses with Black and Brown owners.
Boston Globe Media has created and maintained this running list of Black-owned businesses to support in Greater Boston.
Do you know of a black-owned business that isn't represented in these lists? Each of the sites above offers readers a way to contribute your own suggestions and edits!
Recommended Reading Lists
Books are vital to understanding ourselves and those around us. Use this month as a starting place to read stories and compilations by Black authors and expand your understanding of Black history year-round.
Each February, the Boston Public Library shares book recommendations in their annual "Black Is..." #BPLBooklist in observance of Black History Month.
This year their list includes 69 recent works that convey unique aspects of the Black experience, ranging from poetry to fiction to picture books. The featured works are curated by librarians from across the city and include recommendations for adults, teens, and children.
---
Join Penguin Random House as they #AmplifyBlackStories all year long! Celebrate Black authors, leaders, creators, and more who have forged a path for themselves and others. Their Celebrating the Creators initiative encourages readers to learn from Black writers, activists, and artists who are fighting for a more just and equitable world.
They have also partnered with We Need Diverse Books (WNDB) as the inaugural sponsor of the Black Creatives Fund, which will focus on amplifying the work of Black creatives who have written books and are seeking publication.
---
2020 was a year of reckoning with the race-based violence and inequality entrenched in every community and institution across America. Don't let your antiracist education stop with the books you ordered last spring.
Explore Powell's Books' ever-expanding list of brilliant fiction, nonfiction, poetry, and children's books written by Black authors and centering Black life.
---
From classic novels to contemporary memoirs, Shondaland's list shows just how vast and rich the Black literary experience is.
Across the African diaspora, Black people have used literature as a way to understand both the brutality and the joy of the world around them. They've wielded their words as weapons in some of the fiercest battles against systemic racism, transphobia, misogynoir, and colonialism. And they've told beautiful, unforgettable stories about how Black communities live, love, and survive.
---
A Brief History
Black History Month is celebrated in the US and Canada during the month of February, which was chosen for its significance as the birth month of Abraham Lincoln and Frederick Douglass, both legacy figures in the transformative timeline of black history and racial equality.
What began in 1926 as 'Negro History Week' was initiated by Dr. Carter Woodson, a Harvard educated scholar and socio-cultural visionary. By 1976, the observance was officially expanded to a full month as President Gerald Ford urged Americans to "seize the opportunity to honor the too-often neglected accomplishments of black Americans in every area of endeavor throughout our history."
The Father of Black History Month

Dr. Carter Woodson
Known as the father of black history month, Dr. Carter Woodson's insight and activism changed the telling of black history forever. Born to former slaves in 1875, he earned his BA from the University of Chicago in 1907 and his PhD from Harvard in 1912. He was notably the second black man to receive a doctorate from Harvard.
Dr. Woodson's progressive ideas changed the way educators taught and his tireless advocacy raised the collective consciousness of a generation. He authored more than 30 books and contributed groundbreaking thought leadership to the black community and to the world.
His legacy is nothing short of heroic.
Building an Understanding of Black Life
In 1915, Dr. Woodson founded the Association for the Study of Negro Life, now called the Association for the Study of African American Life and History (ASALH). By 1916, he debuted a quarterly publication called The Journal of Negro History. His goal was not to create a new tradition, but to help build a universal understanding the past in order to create a better future.
As Woodson told an audience, "We are going back to that beautiful history and it is going to inspire us to greater achievement."
Today, ASALH's mission is to promote, research, preserve, interpret and disseminate information about Black life, history and culture to the global community. Learn more about ASALH on their website.
Meet Mary McLeod Bethune

Dr. Mary McLeod Bethune
Dr. Woodson was highly educated and authored many influential scholarly works. But not everyone could easily digest his high-level writing. Black educator, civil and women's rights activist Mary McLeod Bethune gave Woodson the idea to publish the Negro History Bulletin, written to engage less highly educated people (now called the Black History Bulletin). Dr. Bethune (1875-1955) was the daughter of former slaves and was the only one of her 17 siblings to attend school. As she once wrote, "The whole world opened up to me when I learned to read."
Dr. Bethune spent her life devoted to education, women's history and activism. She served as the first woman president of ASALH from 1936 to 1951. She also served as an advisor to President Franklin Delano Roosevelt, which gave African Americans an advocate in government. 1940, she became vice president of the National Association for the Advancement of Colored Persons (NAACP), a position she held for the rest of her life. And as a member of the advisory board that in 1942 created the Women's Army Corps, Bethune ensured that it was racially integrated. Dr. Bethune is one of the most accomplished women in American history. Read more about her incredible legacy here.
Join Us!
At Countway, we know that Black History Month is more than just a February observance... and we plan to celebrate it in a variety of ways throughout the year! Follow along on our social media accounts, and please feel free to participate! If you have your own recommendations or traditions, we would love to hear them; share them with us anytime on social media with the hashtag #CountwayCares!