Center for the History of Medicine Oral History Project
On May 10th 2023, Brigham and Women's Hospital Archivist Catherine Pate interviewed Julia McCatty Collymore, NP, retired. Collymore (Class of 1956) was the first Black individual to graduate from the Peter Bent Brigham Hospital School of Nursing. The Peter Bent Brigham Hospital (PBBH) was one of 4 local hospitals that eventually merged to create the Brigham and Women's Hospital (BWH). The PBBH School of Nursing was a famous and well-respected diploma school that trained young nurses at the hospital from 1912 until 1985.
Joining the interview, held at the Brigham Education Institute within BWH, was Sasha Dubois, M.S.N., R.N., NEA-BC who is a Nurse Director at the BWH, the President of the New England Regional Black Nurses Association and a board member of the National Black Nurses Association. We are also grateful to Carol McGarigle (Class of 1962), Historian for The Peter Bent Brigham Hospital School of Nursing Alumni Association, who originally made Pate aware that Collymore was the school's first Black nurse. 
In the interview, Collymore spoke about her determination to become a registered nurse, the racist rejections she endured from other institutions, and her joy when she was accepted at the Brigham school. She shared fascinating stories from her life and her career as a nurse and nurse practitioner.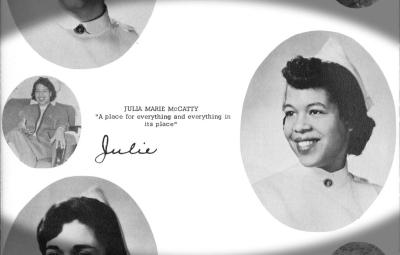 Pate worked closely with Collymore's son Gary Collymore, a respiratory therapist at Massachusetts General Hospital, to make the arrangements for his mother's involvement. He accompanied her to the interview along with her daughter Janine Collymore, who is a teacher. 
While we await the completion of the project, please enjoy some other mentions of Collymore in digitized hospital newsletters here and here. 
Once the processing and transcription are complete, the Julia McCatty Collymore Oral History Interview will become a resource added to the Brigham and Women's Hospital Archives collections. Information about how researchers may access it will also be added to this announcement.