Breast Cancer Awareness Month
Mrs. Lauder – Breast Cancer Research Foundation (BCRF)
As we recognize National Breast Cancer Month, Countway Library would like to share a story of Evelyn Lauder, breast cancer survivor, the daughter in law of cosmetics legend Estee Lauder, and founder of the BCRF.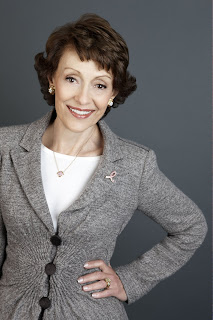 Twenty-eight years ago, in 1993, Mrs. Lauder and her friend Dr. Larry Norton sat at her kitchen table and talked about the need to "change breast cancer history." What came from that conversation was the belief that research, well-funded and managed, was the best tool to fight breast cancer. Evelyn and her husband Leonard Lauder founded BCRF with the belief that "funding was the obstacle standing between breast cancer and a cure."
Mrs. Lauder focused her effort on developing a state-of-the- art diagnostic center at New York's Memorial Sloan Kettering Cancer Center. To honor her contribution, the center was later named the Memorial Sloan Kettering Evelyn H. Lauder Breast Center. The Center has "set new global standards for cancer care with its continual commitment to offer the most up-to-date prevention, diagnostic, and treatment services under one roof."
In 1989 Mrs. Lauder created the signature pink ribbon with Alexandra Penney, then editor of SELF Magazine, and launched the Breast Cancer Awareness campaign within The Estee Lauder Companies. A global campaign followed to raise awareness about the importance of breast health.
Mrs. Lauder died at the age of 75 advancing her life's mission – to rid the world of breast cancer.
Countway Cares … about the people who dedicated their time and resources to the advancement of science.
[Source: Breast Cancer Research Foundation]
The Origin of Breast Cancer Awareness Month
October is National Breast Cancer Awareness Month. It serves as an annual reminder of the importance of breast self-care. The question is, what does breast cancer awareness really mean? Up until the 1970's, breast cancer was a topic no one talked about. Women got the diagnosis, went through treatment and/or surgery, but kept quiet about it. There was virtually no awareness. This changed in 1978 when Betty Ford broke the silence.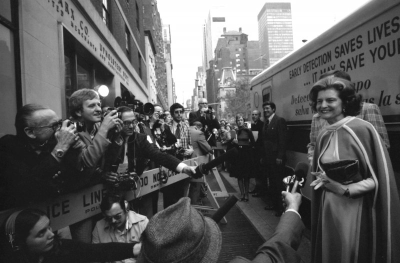 In 1978, while she was First Lady, Betty Ford had finished a successful treatment for breast cancer. Across America, people were shocked and saddened by her news of breast cancer and having a mastectomy. They called her brave. They praised her honesty. But one person was touched more deeply than anyone could understand. Her name was Suzy. She was in her early thirties. The world would come to know her as Susan G. Komen.
Diagnosed at age 33, Susan Komen fought a brave battle with cancer. It started with a misdiagnosis and ineffective treatment. She then went on to battle her way through nine operations, three courses of chemotherapy and radiation. In Betty Ford, Suzy found new strength. "Nan," she said to her sister before she died, "if Mrs. Ford can admit she has breast cancer and tell the whole world she intends to fight it, well then so can I. As soon as I get better, let's do something about this. People need to know that it's important to talk about breast cancer and I want to fix up this waiting room and make it pretty for the women who have to be here. This isn't right."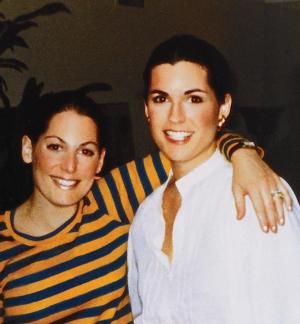 After three years, in 1980 Susan died at age 36. But her legacy was just beginning.
One of Suzy's last conversations with her sister Nan was about how much she wanted to improve the entire experience of breast cancer. From the depressing aesthetics of the waiting rooms with their empty walls and uncomfortable chairs, to the indignity of patients waiting six or more hours for scheduled treatment. To Nan, Suzy was brave and heroic, but more than anything, she was an activist. She wanted to change the way breast cancer patients were treated. She wanted to end the stigma and bring a dark diagnosis into the light. In 1982, Nancy Brinker, Suzy's sister Nan, established the Susan G. Komen Breast Cancer Foundation. And the rest is history. We honor all the women in the world who are breast cancer survivors, and those who have lost someone to breast cancer.
Countway Cares ... about honoring National Breast Cancer Awareness Month.
[Source: Susan G. Komen Breast Cancer Foundation]
Breast Cancer – it didn't start in the 20th century.
"Tracing the history of breast cancer highlights how increased awareness of the disease, and progress in research and development have enhance our understanding of the disease. Despite a remarkable increase in the depth of our understanding and management of breast cancer in the past 50 years, the disease is still a major public health problem worldwide and poses significant challenges."
Below is an historical timeline of major breast cancer insights, from the earliest mentions of diagnoses to discoveries in the 21st century (fully transcribed below the image).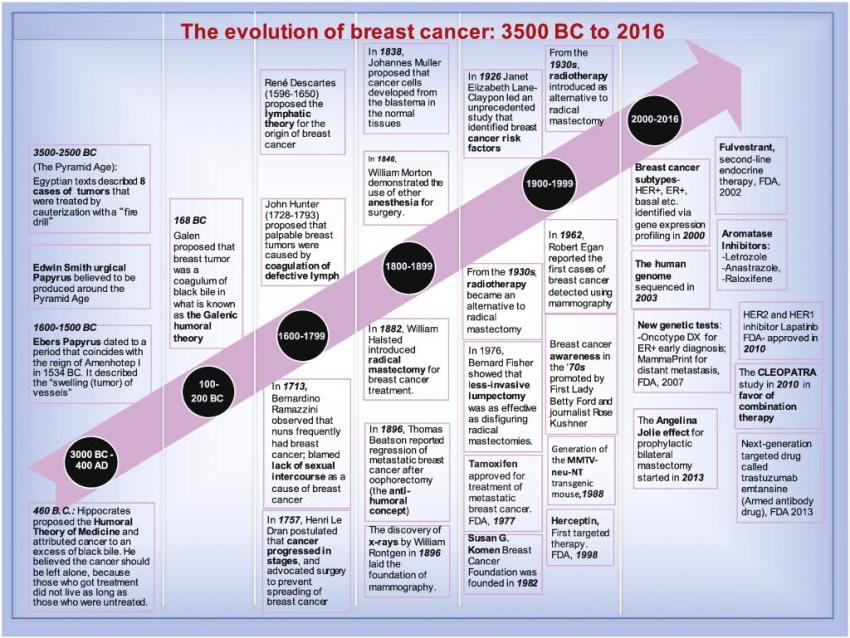 The evolution of breast cancer: 3500 BC to 2016
3000 BC – 400 AD
3500-2500 BC (The Pyramid Age): Egyptian texts described 8 cases of tumors that were treated by cauterization with a "fire drill."
Edwin Smith Surgical Papyrus believed to be produced around the Pyramid Age.
1600-1500 BC: Ebers Papyrus dated to a period that coincides with the reign of Amenhotep I in 1534 BC. It described the "swelling (tumor) of vessels."
460 BC: Hippocrates proposed the Humoral Theory of Medicine and attributed cancer to an excess of black bile. He believed the cancer should be left alone, because those who got treatment did not live as long as those who were untreated.
100 – 200 BC
168 BC: Galen proposed that breast tumor was a coagulum of black bile in what is known as the Galenic humoral theory.
1600 – 1799
Rene Descartes (1596-1650) proposed the lymphatic theory for the origin of breast cancer.
John Hunter (1728-1793) proposed that palpable breast tumors were caused by coagulation of defective lymph.
1713: Bernardo Ramazzini observes that nuns frequently had breast cancer; blames lack of sexual intercourse as a cause of breast cancer.
1757: Henri Le Dran postulates that cancer progressed in stages, and advocates surgery to prevent spreading of breast cancer.
1800 – 1899
1838: Johannes Muller proposes that cancer cells developed from the blastema in the normal tissues.
1846: William Morton demonstrates the use of ether anesthesia for surgery.
1882: William Halsted introduces radical mastectomy for breast cancer treatment.
1896: Thomas Beatson reports regression of metastatic breast cancer after oophorectomy (the anti-humoral concept).
1896: The discovery of x-rays by William Roentgen lays the foundation for mammography.
1900-1999
1926: Janet Elizabeth Lane-Claypon leads an unprecedented study that identified breast cancer risk factors
1930s: radiotherapy introduced as alternative to radical mastectomy.
1962: Robert Egan reported the first cases of breast cancer detected using mammography.
1970s: Breast cancer awareness promoted by First Lady Betty Ford and journalist Rose Kushner.
1976: Bernard Fisher shows that less-invasive lumpectomy was as effective as disfiguring radical mastectomies.
1977: Tamoxifen is approved for treatment of metastatic breast cancer by the FDA.
1982: Susan G. Komen Breast Cancer Foundation is founded.
1988: Generation of the MMTV-neu-NT transgenic mouse.
1998: Herceptin, first targeted therapy, approved by the FDA
2000 – 2016
2000: Breast cancer subtypes – HER+, ER+, basal, etc. identified via gene expression profiling.
2002: Fulvestrant, second-line endocrine therapy, approved by the FDA
Early 2000s: Aromatase inhibitors Letrozole, Anastrozole and Raloxifene approved.
2003: The human genome sequenced.
2007: New genetic tests: Oncotype DX for ER+ early diagnosis; MammaPrint for distant metastasis approved by the FDA.
2010: HER2 and HER1 inhibitor Lapatinib approved by the FDA.
2010: CLEOPATRA study conducted, in favor of combination therapy.
2013: The Angeline Jolie effect for prophylactic bilateral mastectomy.
2013: Next-generation targeted drug called trastuzumab emtansine (armed antibody drug) approved by the FDA.
Countway Cares…about the history of breast cancer.
[Source: Lukong, K. E.]