Apply Now for 2020-2021 Fellowships!
The Center for the History of Medicine is pleased to announce two opportunities to fund research at the Countway Library. Center collections enable researchers to explore the history of human health care, scientific medical development, and public health in nearly every medical and public health discipline.
Boston Medical Library Fellowship in the History of Medicine
Since 2003, the Boston Medical Library (BML) in the Francis A. Countway Library of Medicine has sponsored annual fellowships supporting research in the history of medicine using Center for the History of Medicine collections. BML Fellowships in the History of Medicine at the Countway provide stipends of up to $5,000 to support travel, lodging, and incidental expenses for a flexible period between July 1, 2020 and June 30, 2021. Besides conducting research, the fellow will submit a report on the results of his/her residency and may be asked to present a seminar or lecture at the Countway Library. Please see our Fellowships page for more information and details about previous research recipient.
Fellowship proposals (no more than 5 pages) should describe the research project and demonstrate that the Countway Library has resources central to the research topic. Applications should include: • CV/Resume • Estimated length of visit • Proposed budget and budget breakdown (travel, lodging, incidentals) • Two letters of recommendation
Electronic submissions of materials may be sent to: chm@hms.harvard.edu.
Boston Medical Library Fellowships Center for the History of Medicine Francis A. Countway Library of Medicine 10 Shattuck Street Boston, MA 02115.
Application deadline is Friday, February 14th. Awards will be announced in early April.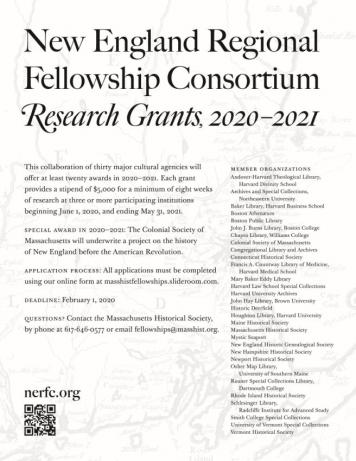 New England Regional Fellowship Consortium Research Grants
The New England Regional Fellowship Consortium (NERFC), a collaboration of 30 major cultural agencies, is offering at least two dozen awards in 2020–2021. Each grant provides a stipend of $5,000 for a minimum of eight weeks of research at participating institutions. Awards are open to U.S. citizens and foreign nationals who hold the necessary U.S. government documents. Grants are designed to encourage projects that draw on the resources of several  member organizations, including the Center for the History of Medicine, Countway Library.
NERFC grants support work in a broad array of fields, including but not limited to: history, literature, art history, African American studies, American studies, women's and gender studies, anthropology, sociology, philosophy, religious studies, environmental studies, oceanography, and the histories of law, medicine, and technology. Member institutions hold collections that offer a historical perspective on topics in all of these fields and more. For information on each member's resources, see its listing in "Participants" and contact the institution.
Each NERFC itinerary must:
be a minimum of eight weeks
include at least three different member institutions, and
include at least two weeks at each of these institutions.
NERFC expects fellows to visit all the repositories they list in their proposals for the length of time they specify. The Consortium's policy is to ensure that each member with collections hosts fellows every year. An applicant's proposed itinerary may be a factor in the decision whether to award a fellowship. In keeping with NERFC's regional interests, the Consortium may also favor applications that draw on institutions from more than one metropolitan area. Grants in the upcoming cycle are for the year June 1, 2020–May 31, 2021.
the submission deadline is February 1, 2020. For application instructions, go to http://www.masshist.org/fellowships/nerfc/apply.