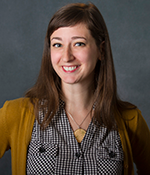 Archivist, Harvard School of Public Health
Heather Mumford is the Archivist for the Harvard T.H. Chan School of Public Health. She joined the Center for the History of Medicine in 2011, initially serving as the Records Management Assistant and Centennial Archivist before beginning her role as Archivist for the Harvard Chan School in 2014. As the School's Archivist, Heather appraises and acquires records that speak to the history of public health and the legacy of the Harvard Chan School, which is the first professional public health training program in America. She works collaboratively with administrative offices, academic departments, and individuals to address projects connected to this history, and to provide guidance on best practices in records management. Heather is also co-founder and manager of the Countway Community Garden, an educational and therapeutic community garden space located at the Countway Library.
Prior to joining the Center's staff, Heather volunteered at the Peabody Essex Museum, Boston Public Library, Providence Public Library, and the Department of Conservation and Recreation in Massachusetts. She holds a MLIS from Simmons College, and a BS in Performance Art and Philosophy from Suffolk University.