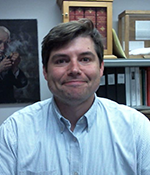 Curator, Warren Anatomical Museum
Dominic has been the curator of the Warren Anatomical Museum in the Center for the History of Medicine at the Countway Library since 2007. As curator, he's responsible for both managing the historical anatomy and pathology collections of Harvard's legacy medical museum, and developing the modern medical artifact collections associated with the Center's manuscript and archival holdings. Dominic's the primary point of contact for the museum, and is responsible for its acquisitions, loans, collections management, research, outreach, and exhibition. One of his chief goals for the museum has been integrating it into the special collections environment at the Countway's Center for the History of Medicine, and orienting the mission of the historical specimen collection into the modern academic community and for greater appreciation by the general public.
Before his appointment as the Warren Curator, Dominic worked in Seattle's Museum of History & Industry, the Burke Museum of Natural History and Culture, and the South Country Museum in Rhode Island. He received a BA in history from Colgate University and a MA in Museology from the University of Washington, Seattle. Dominic earned an additional MA in Liberal Arts, History from the Harvard Extension School where he wrote a thesis entitled "The Catholic Brahmin and the Anatomy Act of 1898: Thomas Dwight and the Normalization of the Medical Cadaver Supply in Late Nineteenth-Century Massachusetts." Dominic is a past president of the Medical Museum Association.