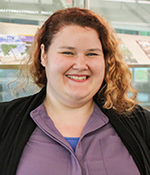 Archivist for Diversity and Inclusion
Joan Ilacqua joined the Center for the History of Medicine in 2014, serving as the Strong Medicine Project Coordinator, Oral History Project Coordinator, and Project Archivist for the Archives for Women in Medicine, before being appointed Archivist for Diversity and Inclusion in 2018. In her role, Ilacqua ensures that the Center's collections reflect the broad diversity of the Harvard Medical School and Harvard School of Dental Medicine community.
Ilacqua's background is in public history, she holds a MA in Public History from UMass Boston, and a BA in Studio Art: Sculpture and History from the University of Puget Sound. She is Co-Chair of the Board of Directors of The History Project: Documenting LGBTQ Boston, a community archives dedicated to collecting, preserving, and sharing Boston's LGBTQ history, and a member of the New England Archivists' Inclusion and Diversity Committee.